Part 1 - Rocky Mountain National Park
Part 4 - Silverton - The rest of the trip
(Click on any of the photographs for a high resolution version)
Day 4 - Unpack, kick back and relax.
Nope, Dave C. and the boys were off to do Black Bear Pass.
"Black Bear Road, officially Forest Service Road 648, is a notorious jeep trail that starts from 11,018-foot (3,358 m) summit of Red Mountain Pass on U.S. Highway 550(between Ouray and Silverton) to Telluride, Colorado. The Black Bear Road crests at Black Bear Pass, elevation 12,840 feet (3,910 m). The road descends over a set of infamous switchbacks as it navigates the heights above Telluride. The road passes Bridal Veil Falls, the second highest waterfall in Colorado. The road was made famous in a spoken word song by C.W. McCall of the same name."
I am the first to admit that the reputation of this trail intimidated me. We had lost two of our club members a few years earlier to this trail and it does have one heck of a reputation. I must have been nervous because I screwed up both video cameras so I ended up with virtually no video and what I had was useless.
However, the trail wasn't that bad at all but you do need a damn good set of brakes and you certainly have to pay attention at quite a few spots. If you don't like off camber shelf roads, multi point turns on switchbacks then don't go. If you drive a crappy vehicle don't go. If you don't like heights don't go. If you don't like yuppie tourists that park their SUVs across the trail exit then have a sense of humor to watch them sweat as you squeak past them without hitting them.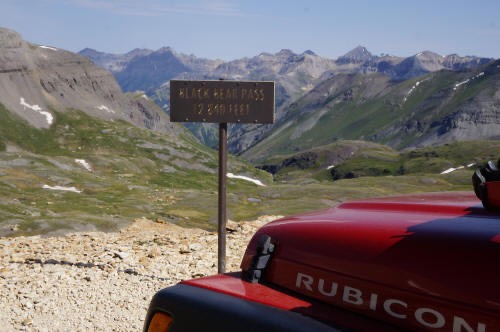 Dave tossing snowballs at me and yes he did hit me.
Telluride at the bottom of the hill and far into the distance is Telluride Airport at an elevation of 9,078 feet (2767 m) above sea level, it is currently the highest commercial airport in North America to receive scheduled passenger airline service.
This is a pretty crappy video of the stair steps leading to the switchbacks and decent into Telluride.
Footnote: Many say this trail is nothing to write home about but others say it is one of the toughest. I say it is one of the most treacherous if you don't pay attention 100% of the time. Don't go with bad brakes, don't go if you are a novice wheeler, don't rent a Jeep in town and think you can handle this trail, don't go alone, don't go in the rain and don't go if the weather forecast predicts rain or thunder.
2014 - None injred - very lucky

2009 - Two fatalities

Part 1 - Rocky Mountain National Park