FOR SALE SOON
Price TBD
Specifications
1988 Suzuki Samurai C51 2 door SUV (Tin Top)
I have owned this vehicle for about 10 years.  I had not driven it since July 2014 due to motor/computer issues and the switch to more expedition travel in my Wrangler. In 2019 a used 1.6 liter motor was installed powered by propane. It has been driven a few times this year and has run flawlessly. New front end Trunnion Bearings, Axle seal, and axle bearings were replaced late 2019. This Sami has been stored indoors the entire time I have owned it and has zero rust.
General Condition - This vehicle is in excellent mechanical condition with absolutely no known problems or issues. For its age the body is also in excellent condition - NO RUST ANYWHERE. The interior dashboard is the only bad area because during it's long term storage the dashboard was gutted including the instrument panel, heater control panel (heater controls still function), glove box etc. Please check the photos to see new switches and guages.
Titled - Clear Indiana title - I did not re-title here in Illinois as I intended to keep it for off-road use only. It does have hydraulic steering so on road use would be extremely sketchy and not recommended.
Mileage - Totally unknown.
Motor - 1.6 liter 8 valve 1991 GEO Tracker 4 cylinder with about 80,000 miles.
Propane Kit - Got Propane Kit with two standard grill 23lb tanks.
Transmission - 5 speed stock 
Transfer Case - 6:5-1 with Twin Sticks
Steering - PSC Hydraulic
Axles - Toyota front and rear with 5:38 gears   (4.88 gears????)
Lockers - Detroit front,  Spool rear
Springs - Jeep YJ
Bump Stops - Teraflex - Cost $800.00 new
Wheels - Allied Rock-a-Thon 36 bolt Beadlocks - no spare.
Tires - 38.5 Interco Boggers virtually brand new  - no spare.
Winch - Warn M8000 lb with steel cable
CB Radio - 
Roll Cage - Exo cage - beautifully made and welded with only the very best of materials.
Seats - Toyota seats in excellent condition and really comfortable
Wheelbase - 98"
For years I had followed the local boys in their Zuks going everywhere and anywhere they pleased and usually showing up much bigger, more powerful and usually better  equipped vehicles. I had been chided into buying one myself but absolutely refused to be seen driving a rice burner when I had a perfectly good Willys to drive. However, the Willys was a might cold in the Winter and you wore most of the mud the tires throw in the crap hole of an local off-road park we generally wheel at. The trails are pretty gnarly and body damage is a regular occurrence if you don't have an exo-cage.
I had asked everyone to keep their eyes open for a decent Tin Top and sure enough one came along that was pretty decent. We added some new beadlocks and 37" Boggers, a Warn M8000 winch and some extra cage parts and we were off. It didn't too long before we were improving the Zuk replacing alternators, shocks, springs, steering parts but that's wheeling for you.
and..... Would you believe it........  It is the best darned off-road vehicle I have ever driven. It goes just about everywhere it is pointed.
Somewhere along the line it was re-named the Donkey Dick, maybe because of the stinger - who knows but the name has stuck.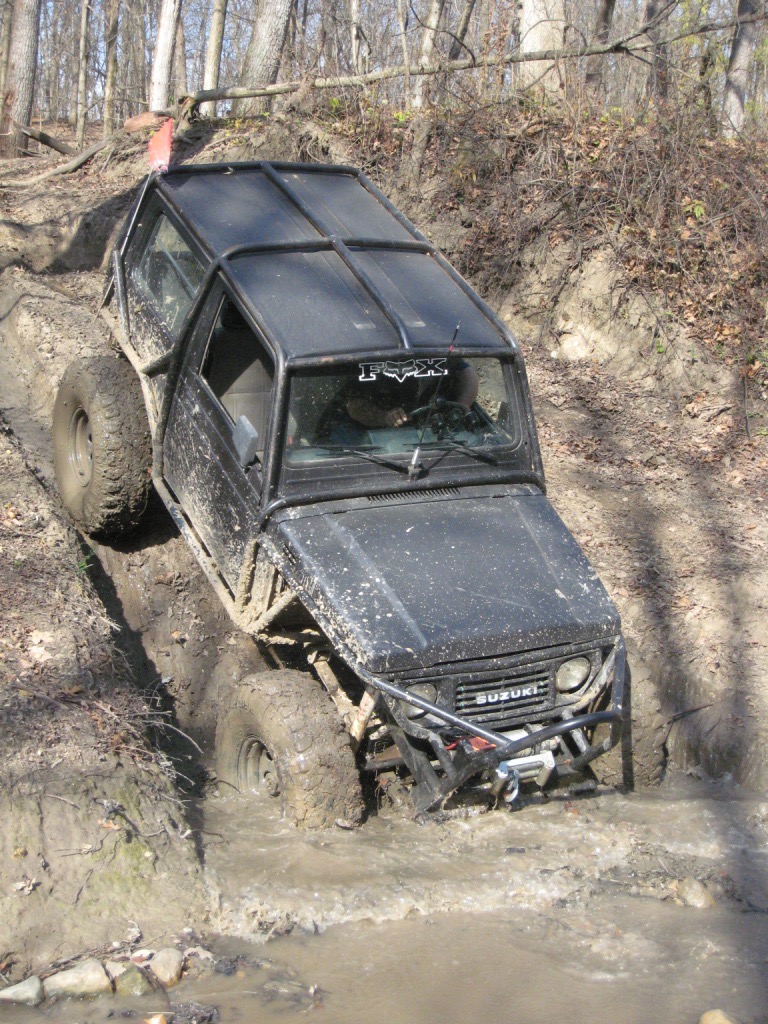 Suzuki Samurai Tin Top Photo Gallery