Test Drive One …  ( May 13th, 2002)
Well it was just going to be a drive around the farm. Nothing fancy, nothing difficult. Just stay on the roads and check out the transfer case, transmission and cooling system. That lasted about 15 minutes when temptation overcame logic. Three hours later, we had  bent the front driveshaft. It was over 20 years old and marginal at best in the first place. The transfer case would only engage with several heavy size 11-1/2 boots. The rear fenders got a little bent. Overall it was a successful day.
Test Drive Two ...
Flawless with the exception of a little overheating due to a shortage of coolant and a loose radiator cap. Three hours of absolute delight. The steering squeaks like hell on full lock and I don't know why.
Test Drive Three ...
Attica with the Two Rivers Jeep Club.  Follow me said The Dieken with his 99 TJ, ARB's front and rear, long arm Rubicon Express lift and 35" Boggers. And, I did just that. I had The Tanker in back of me with his highly modified YJ also with 35" Boggers. Where they went, the Flattie went.  Six hours of orange and pink trails with absolutely no problems. Well, a small one if you count knocking off the Zerk fitting on the pitman arm. The coolant problem was fixed by topping up the coolant and adding a coolant overflow bottle. The rear fenders were rearranged a little bit more.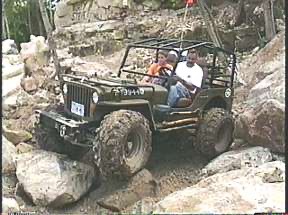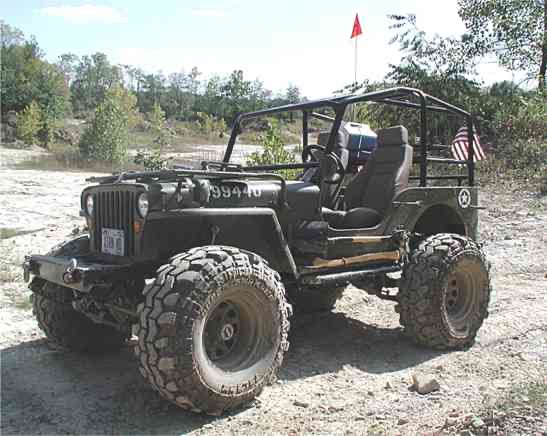 The steering still squeaks like hell and I don't know why. The front tires rub against the springs on full lock. The power steering fluid is at the correct level. The AGR pump is new and the belts or correctly tensioned. So if there is anyone out there with a suggestion please e-mail me and help me out.
As you can see from the photo I have added a few extras - click on Details... for all the scoop.
Test Drive Four ...
Back to Attica with the boys from the Two Rivers Jeep Club. Yet another flawless performance. Well nearly flawless. The belts are still screaming and I have located the occasional metal to metal bangs. It is the pitman arm disagreeing with the drag link and the drag link grating against the track bar.