The "Incremental" Willys - Little by Little - More Details
Update - May 21st, 2002
It was a long winter that gave me lots of opportunity to change, add, and modify many things to the Willys. I say "me", but in reality it was the genius of John Toumbs and Larry Schultz that did most of the work and came up with most of the fixes. I knew what I wanted, told them what I wanted and they did the fabrication and mechanics. I am sure there are a lot of purists out there that will criticize me for not doing the work myself. But do you know what? I don't have the time to do the work. I couldn't if I did, and I'm not sure I would if I could. I am most fortunate to be able to do what I do and to know others that will do what I don't.
These are the changes since the end of last season in no particular order. Click on any of the images for a larger view.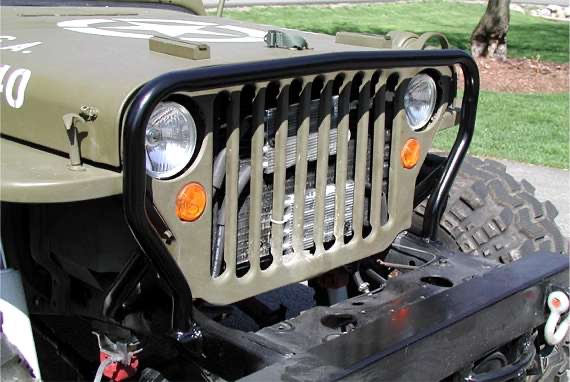 So what do you call this - a Bull Bar? Or the radiator's own personal roll cage. I reckon when she goes "a-- over t--" I shouldn't beat up the engine too bad.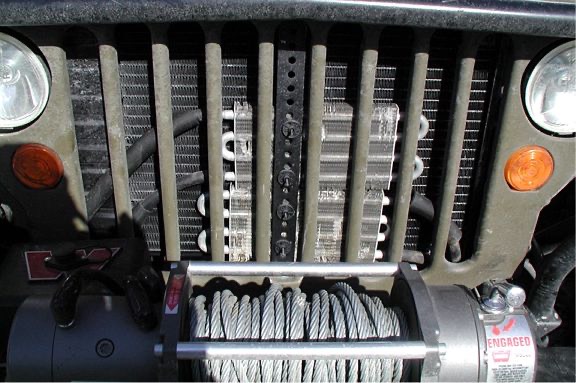 I haven't had any over-heating problems yet but I figured a Power Steering Cooler and a Transmission Cooler wouldn't hurt any.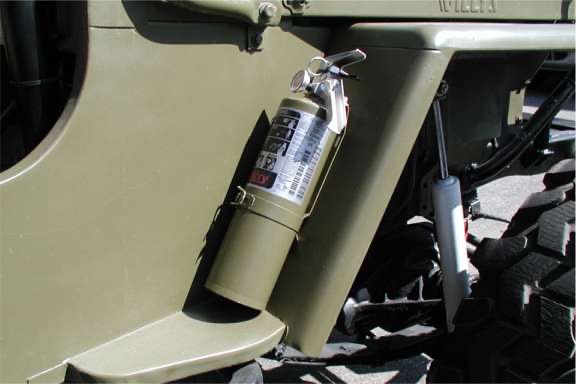 There is a definite shortage of space in a Flatfender. Some stuff just has to stay outside. Someone told me that all fire extinguishers have to be red but this is a color coordinated Flatfender.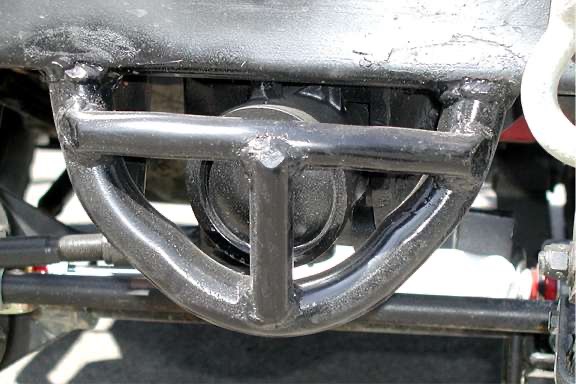 The steering box was moved a few inches forward to prevent the pitman arm from mashing against the tie rod. John Toumbs did the modifications and also fabricated this AGR Steering Box guard.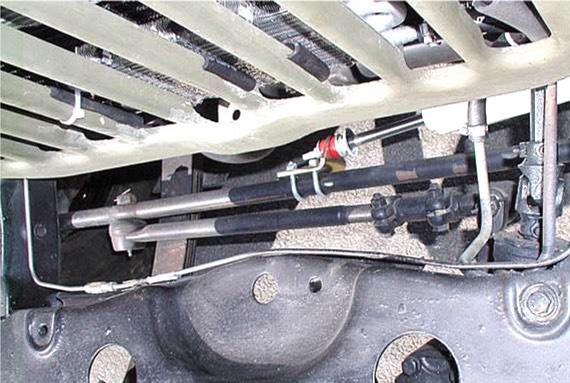 A Rancho Steering Stabilizer was also added in an attempt o make the steering a little stiffer. The steering is so light to the touch I often have to make sure the front tires are actually touching the ground.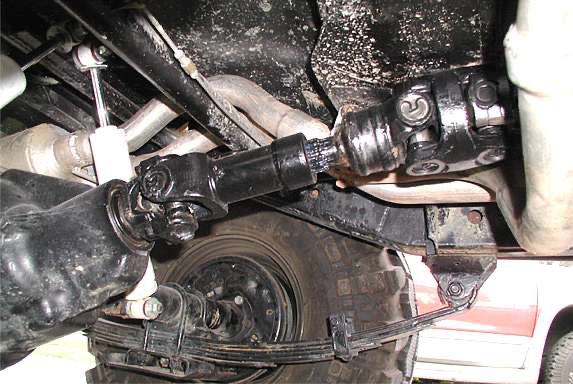 I had a spare TJ rear CV Joint driveshaft that I was looking to trade for a spare for the Willys, but John came up with the idea of converting it to fit the Willys. He had conversion parts for a Scout 20 transfer case so he crafted a much stronger,  more efficient rear driveshaft. I will now use the old shaft as a spare.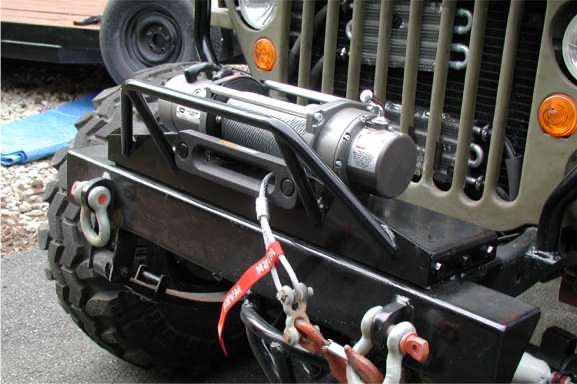 Tanker Schultz converted a Tomken Winch plate so that it can be  removed fairly easily for access to the steering box. He also installed the Warn M8000lb winch. The control box has been bolted flat to a plate attached to the winch plate. I didn't like the idea of a modern winch standing up so tall in the front of the grill. (I also couldn't afford one of the old fashioned looking M8274 style winches)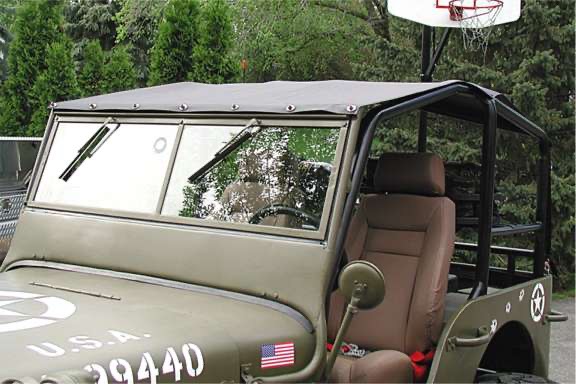 I had a local boat cover shop fabricate a bikini top. It looks good and fits nice. I couldn't find anything in the aftermarket that would fit or could be converted. It was surprising just how dry it kept us during the Ist Annual Illini 4X4 Safari. It rained continuously but with the help of foul weather clothing we stayed warm and dry all day. (Except when we submerged on the Lake Shore Drive Creek)
Did I need them, not really, but then again I really don't need this Jeep either. These are 36 bolt Allied Bead Locks. We ran at 3.5 p.s.i. with out incident at the Safari. We started at 5.5 p.s.i. but the tires just would not bulge or flex. Next day we went down to 4 and then to 3.5. With the stems completely removed the tires never appeared to be flat and still registered 2.5 p.s.i.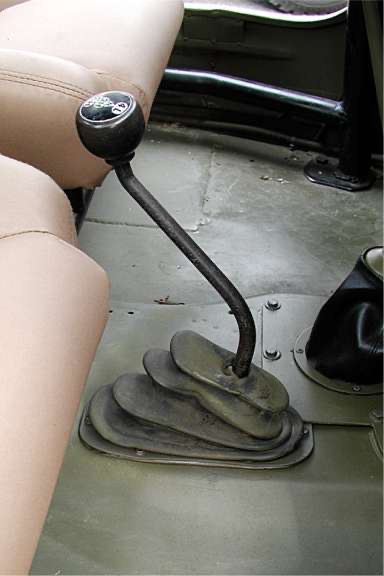 The Jeep Dana 20 transfer case I had in the Willys leaked like a sieve and would only go into gear with the help of many persuasive size 12 thrusts from my right foot. I decided to go with a Scout Dana 20 because I had heard they shift smoother but more importantly, the direction of 4-low is opposite to the Jeep Dana 20. This gave me more room to maneuver the shift handle as the Jeep 20 shifter would end up nearly under the front of the passenger seat when in 4-low. The boot is from Lokar and the new transmission shifter plate was crafted by Larry (Tanker) Schultz.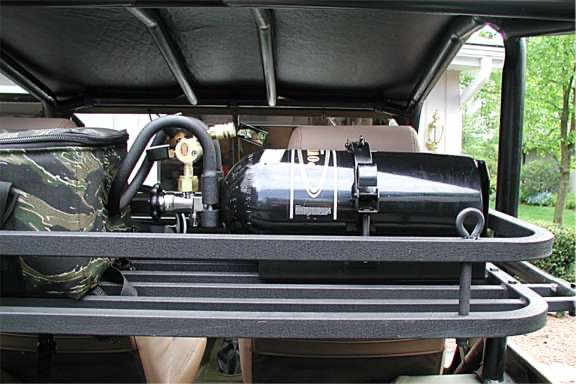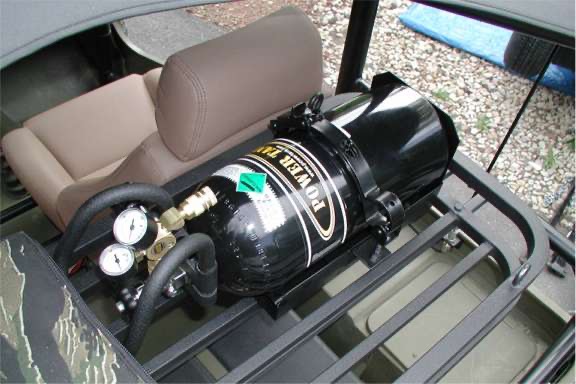 My first choice would be a York Air compressor. They power air tools fantastically well and will air up a tire in seconds. Trouble is I don't have the space under the hood to install one. I have had a power tank for awhile and it has become invaluable at home and on the trail. I liked the air control and protective hoop on the Power Tank. I keep the coiled air hose and air attachments in a plastic tool box that resides behind the passenger seat. The Power Tank is attached to the rack with with 3 "U" bolts.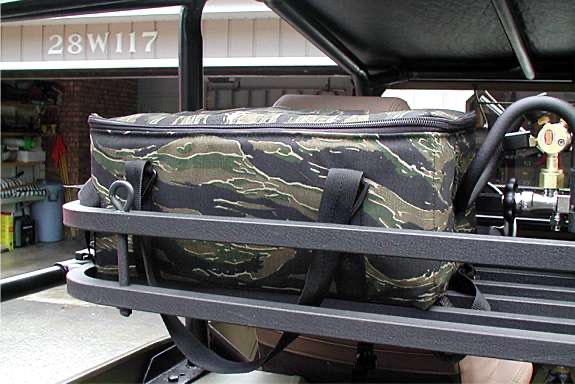 I can load as much equipment on the Flattie as I could in the TJ. Trouble is the bright red and blue cooler just wouldn't cut it. Most of my storage bags and equipment looked out of place. I chose to purchase some camo coolers that are designed for ATVs. They have straps on the bottom of the coolers so you don't need bungee cords or tie down straps to hold them in place. They look good in the rack and behind the seats.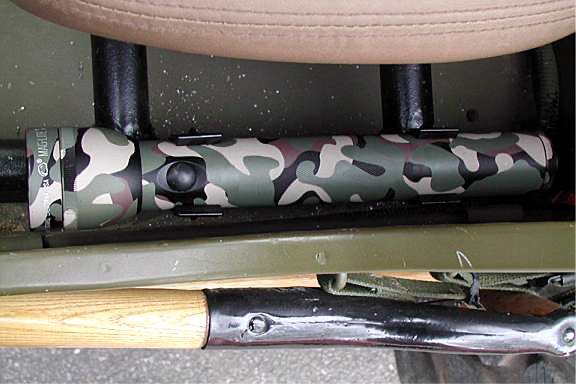 Getting ridiculous? Yep, but how do you resist.