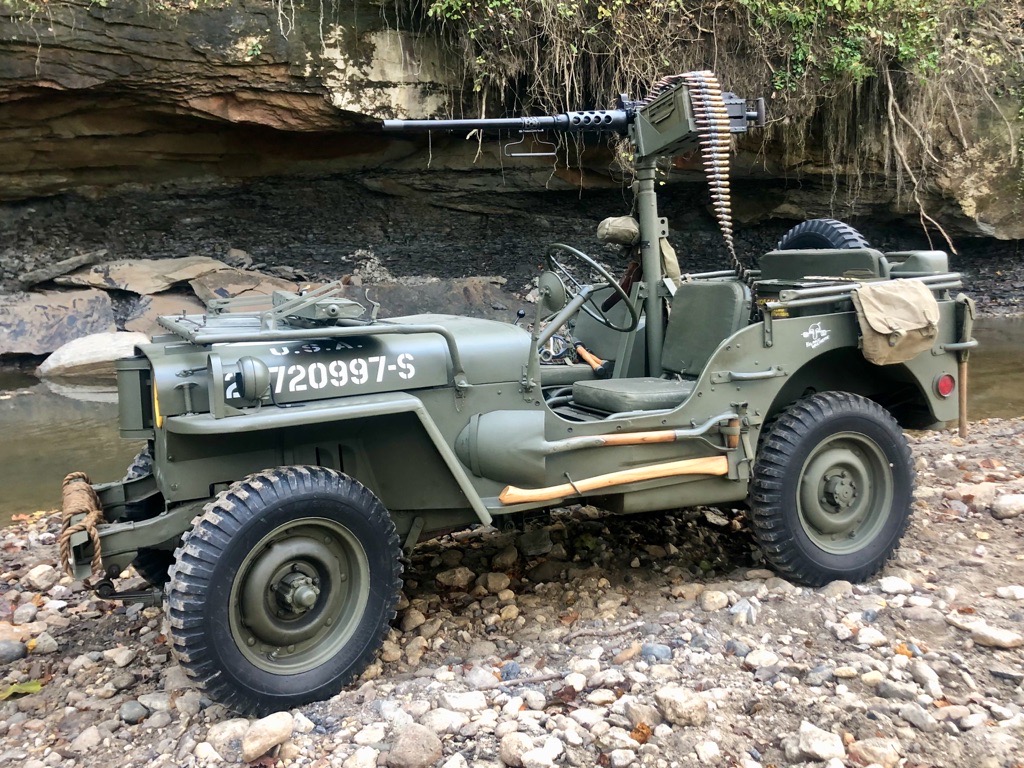 This is an original 1945 Willys MB in excellent condition both mechanically and cosmetically. The motor, drivetrain and  frame with numbers to show that this Jeep was built somewhere between the 18th and 20th July 1945. The tub is a replica.The hood numbers are correct to within plus/minus 3 numbers.
Since I have owned the Jeep it has been through an extensive and thorough mechanical check out. The biggest item was a new rear main seal and steering box rebuild. The brakes are in excellent shape, the Jeep stops well and straight. It has the original 6 volt electrical system. I added a desert cooling kit because I just like the look and also to keep the motor cooler during parades. The seat covers are brand new.
All of the instruments work correctly as do all black out lights. It has 5 combat rims which are in excellent shape. I believe the tires were installed during the restoration in the mid 90s but are in excellent shape.
The .30 caliber M1 carbine is an excellent metal and wood reproduction as are the grenades. The .50 cal Ma Deuce replica was manufactured by Iran, Inc.. The body is aluminum and the barrel steel. There are several original parts like the trigger, sights, handles, charging handle and carry handle for added authenticity. The ammo belts are de-milled original cartridges.
The Willys starts easily, runs great, shifts perfectly and stops straight and true. It does not leak anywhere. Everything you see in the photos goes with the Jeep including the summer canvas top as shown in one of the photo albums. It has a clear Illinois Title listed as a 1945 Willys MB.
The Willys has always been stored indoors and is currently located in Plainfield, Illinois 60585.