- Jeeping Redefined -
I have been crisscrossing this great country for 30 years. Always traveling on interstate freeways or major highways like Route 66 or Route 50, the "loneliest road" in America. But I have always yearned to drive those roads less traveled and just one time take a Jeep up one of those fantastic looking dirt roads that appear to vanish into the sunset or over the horizon. I bought my first Jeep Trails guide book in 1972 and still have it, but it took until this year to finally use it. This year I spent a summer vacation with the family in Colorado and watched Jeeps climb mountain roads, I drove to a conference in Las Vegas and watched others drive around Monument Valley, I had a business meeting near Prince Edward Island and spent a day ATV'ing on dirt trails in Canada, so by September I had one hell of an itch that needed scratching so when crazy Dave C., a Jeeping buddy who goes out west to Jeep twice a year for the last 10-15 years asked if I was ever going to join him and I said yes.
I don't think I will ever go Jeeping in the mud again!!
So what's so hot about the Canyonlands? Well I would say that God was a Jeeper and thought he would devote a little land for us to play on. There are thousands of miles of jeep trails in Grand County. Most are unmaintained relics from mining or prospecting for minerals such as uranium, vanadium radium copper, gold, and oil. Yet, except for the trails themselves, there are few scars on the landscape. Some trails are used in current mining and grazing activities, and major access roads receive some maintenance from the county. Others are repaired just enough to get through. The BLM's Moab Field Office oversees almost six million acres. That is one heck of a play area!!!
The down side is that MOAB ain't cheap. The locals see you coming around every curve. Moab was an old mining town that would be dead if it were not for the hundreds of thousands of tourists that visit every year.  Gas is 50 cents higher than the rest of the country, hotel prices are ludicrous and are even worse during the Easter Jeep Safari when it is rumored that the local vendors can earn as much as 50% of their annual income. Where else in America can you find  a Motel 6 that charges over $100.00 a night. Book a room in advance and your credit card is immediately charged with no cancellations or refund possibilities. Buy a sandwich or a cup of coffee at a gas station and you are asked for a local resident discount card, don't have one then bend over, go buy food and supplies at the local food market and  you are asked for a local resident discount card, don't have one then bend over. Restaurant prices aren't ridiculous but the attitude of wait staff is. One waiter had the audacity to complain about the tip we left. He thought it was only $2.00 until we told him to recount and then realized it was $12.00. Then the jerk asked us to vacate the table so he could get another group in for dinner. Complain about the undercooked chicken and you may be thrown in a dumpster!!   Was it worth it? - Hell yes.
Dave has the luxury of time and a large motor home and towed his new "Mexican Low-Rider" Unlimited Rubicon to Moab this year. Dave didn't have time to modify the suspension on the Jeep but amazingly the Jeep went everywhere it was pointed. I on the other hand had no time and no Jeep so I hopped in a taxi at 6:00am and promptly fell asleep on the way to Chicago's O'Hare airport. Two hours later I was sleeping on a Delta Jet bound for Salt Lake City. A short layover which gave me enough time to find a Starbucks and my gate and I was on board the America West shuttle to the Moab/Canyonland International Interplanetary Space Port.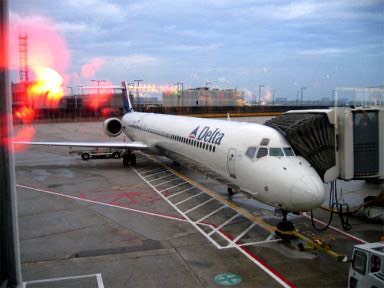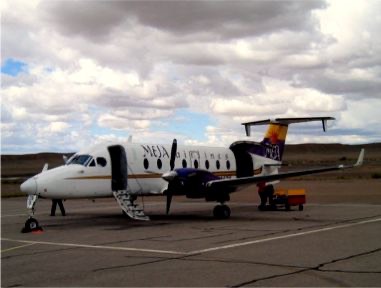 The shuttle co-pilot gave the obligatory safety speech as there was not room for a flight attendant. "Just grab a seat anywhere folks and strap in tight". We were told we could expect an unusually bumpy flight because of the recently passed storms, plus the canyons and mountains make the flight bumpy anyway. I didn't sleep on this flight!! The views across Utah were amazing even though the plane was lurching up and down and fish tailing the entire journey. I have been on hundreds on flights around the world but this one was the wildest. At 1:15pm I was looking for a ride into Moab. Unfortunately Moab doesn't have any taxis and the airport shuttle was not working that day . I hitched a ride with a tour group that was going rafting on the Colorado. I picked up a Rent-a-Jeep from the Archway Inn. The Jeep was a 2006 Rubicon with a 4" Teraflex lift and 33" crappy bald tires that must have been transferred from several previous Jeeps. The TJ only had 8000 miles on the odometer but it must have been driven hard and put away wet.  Don't change the tire pressures I was told or I would be fined $25.00 for doing so. Well I checked the front tires and they had 36lbs in one and 21lbs in the other and 23lbs in the rears. That was a major part of the handling issue solved. The rental company supplied a list of don'ts as long as your arm, each with accompanying fines and penalties that would be added to the final bill.
But guess what? Just 9 hours after leaving the house in Naperville I was cruising around Moab and being shown the sights by Dave and his wife Connie. I got to see a lonely XJ make it down and up Potato Salad Hill with ease. The driver was totally laid back with his arm hanging out of the window and just smoking on a cigarette. We cruised some and went for dinner and started planning a week of wheeling.