(Part I  - Purchase it, and drive it home from Colorado)
I bought it in Breckenridge, drove it over eight of the highest through mountain passes in Colorado on the way home. Modified it, drove it back to Colorado, flew home for a wedding, flew back and drove through Moab to Blanding, Hanksville, and Green River, Utah for another 1000 plus miles of wild and crazy adventures in the desert and Canyonlands with Dave C.
I noticed with my old TJ and this LJ that they are the only vehicles that I never even got a twinge of a back ache while driving. There are many other things about driving Jeeps to aggravate you but back pains aren't one of them. The wind noise, the resonating exhaust, the aerodynamic design of a house brick and being so gutless that it struggles to get out of its own way.  Being passed on every incline by little old men pushing  wheelbarrows, hippies in a VW bus and a station wagon full of nuns to name a few.
 I had been looking for a red Rubicon Unlimited for many months. The wife and daughters absolutely insisted it be red so the search was not easy. The choice was limited to a 2005 or 2006 model as that was the only years for the Unlimited. I found one in Texas but the dealer couldn't find the hard top, another in Michigan but his wife's lawyer blocked the sale, another on Long Island but I was too slow and it got sold. Yet another in Colorado that was actually already sold and my salesman didn't know it. It was another month before another red Rubi LJ appeared on the market. I was checking Craig's list, Auto Trader which was the best source, E-Bay and several other on-line classifieds on a daily basis throughout the country. The one I purchased was for sale in Breckenridge, Colorado by a real estate broker. I called within minutes of it appearing on-line. I made an offer and wire transferred a deposit within the hour. Two days later I flew to Colorado and met the LJ for the first time.
In less than an hour I was headed back to I-70 and home but Dave gave me lousy directions and I headed south by mistake. Thirteen miles later I am at Alma Junction and my GPS is pointing out the start of Mosquito Pass Trail. I had to check that the four wheel drive system and lockers worked so what the heck. The Mosquito Pass Trail is the highest pass road in Colorado open to travel. It is not a hard four wheel drive pass but there are parts that need good ground clearance with several of the climbs and descents quite steep.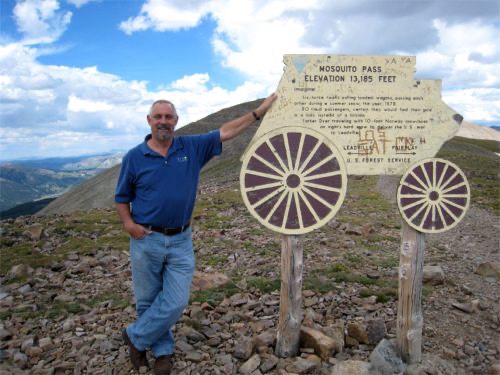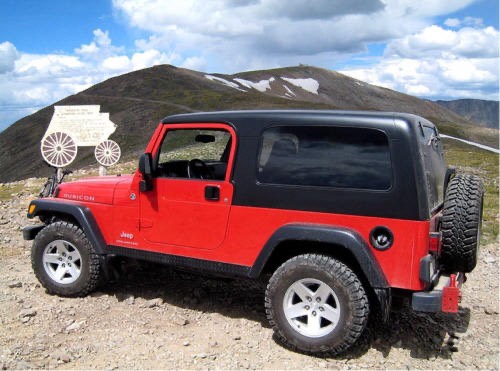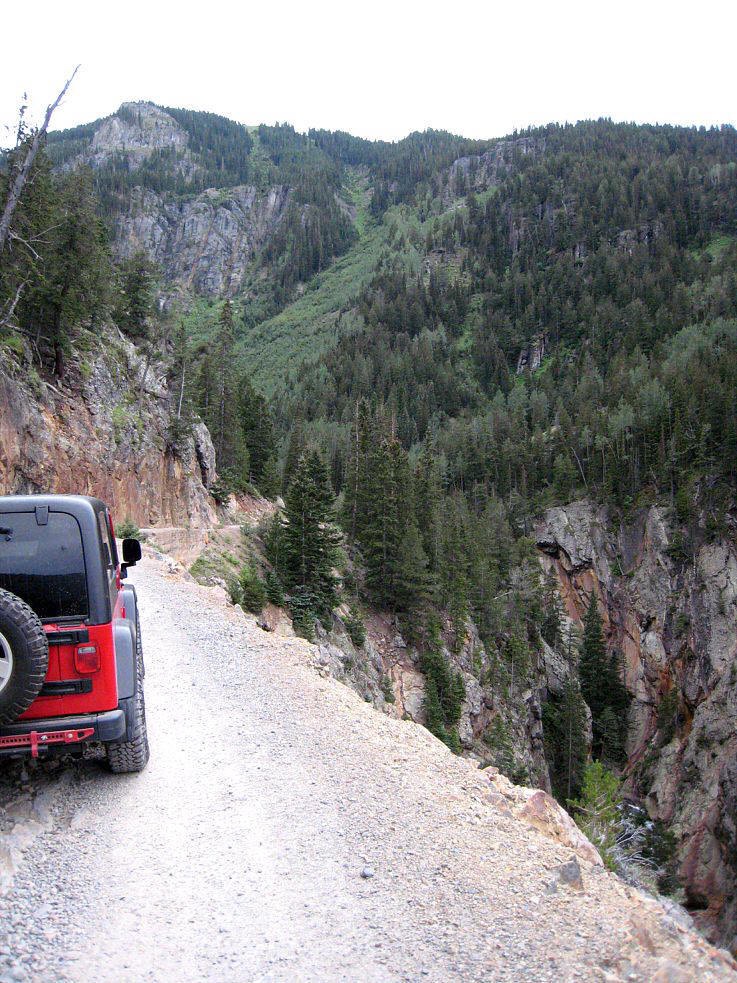 It is a fairly slow drive to the pass at 13,185 feet above sea level and back down again but twenty two miles later I was in Leadville and still heading in the wrong direction. Fortunately Dave C. informed me that by driving southwest with a tale wind I would make better time heading home. A couple of hundred miles later and with night falling I was lucky to find a room available in Ouray, the Jeep capital of Colorado.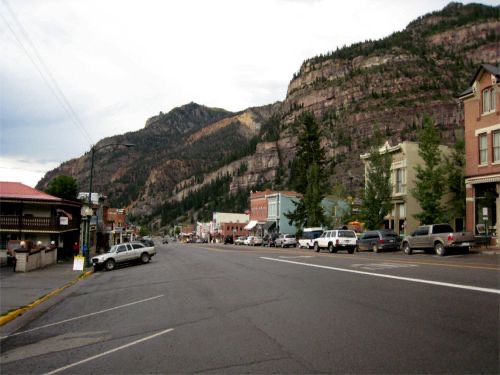 Well I couldn't leave Ouray without a quick trip across Engineer Pass (12,800 ft), Cinnamon Pass (12,640 ft), California Pass (12, 930 ft), Hurricane Pass (12,407 ft), Ophir Pass (11,789 ft), and Imogene Pass (13,114 ft) plus several side trips to various mines and other side trails like Nellie Creek, Yankee Boy Basin, Governor Basin and the Carson Ghost Town Trail.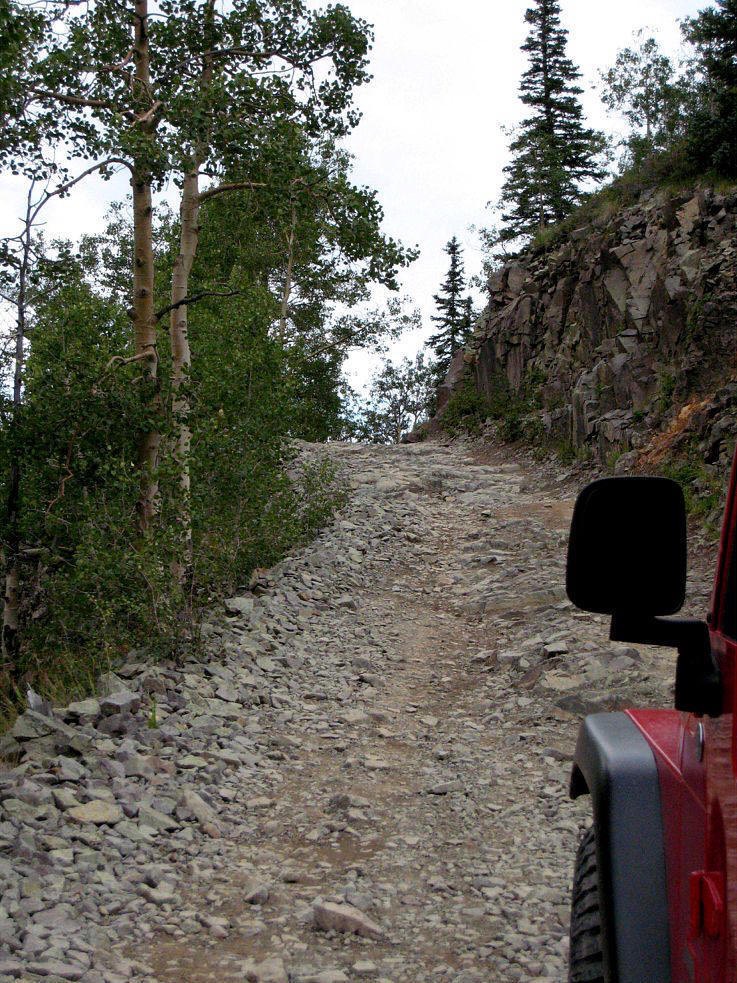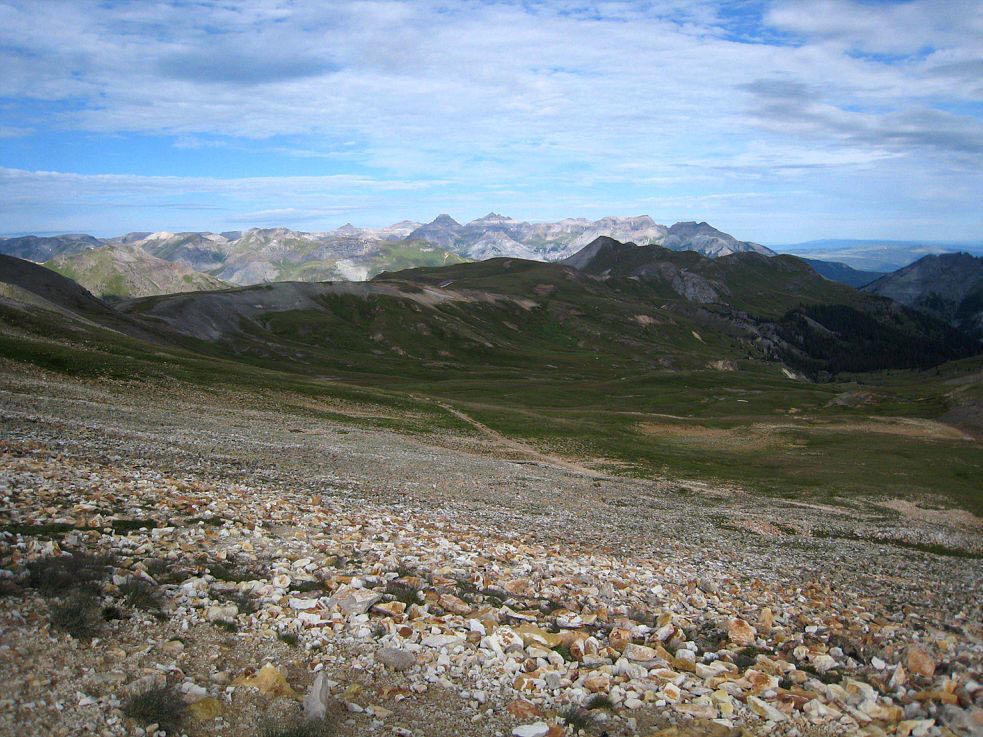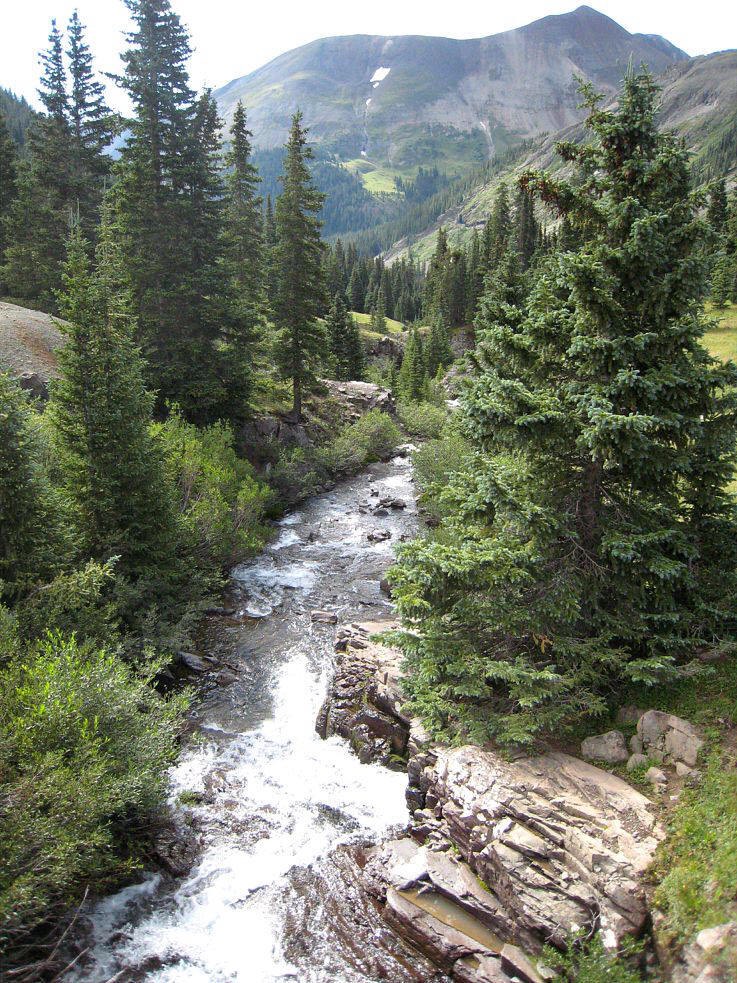 Engineer Pass - Most of this first part of the Alpine Loop is easy, but there were a few steep, very rocky parts on the west side that will get your attention especially in the on and off again torrential rainstorms that continued to cross Colorado the entire week. By starting each day before the sun rose I was able to enjoy these trails before all of the rent-a-jeep grockels invaded the many old mining sites. Engineer Pass climbs to 12,800 feet is about a 21 mile trail that starts off the Million Dollar Highway near Ouray and ends at Lake City. There are several side trips off the Engineer Pass Trail but I only tried Nellie Creek. After Lake Creek I headed toward the start of second part of the Alpine Loop.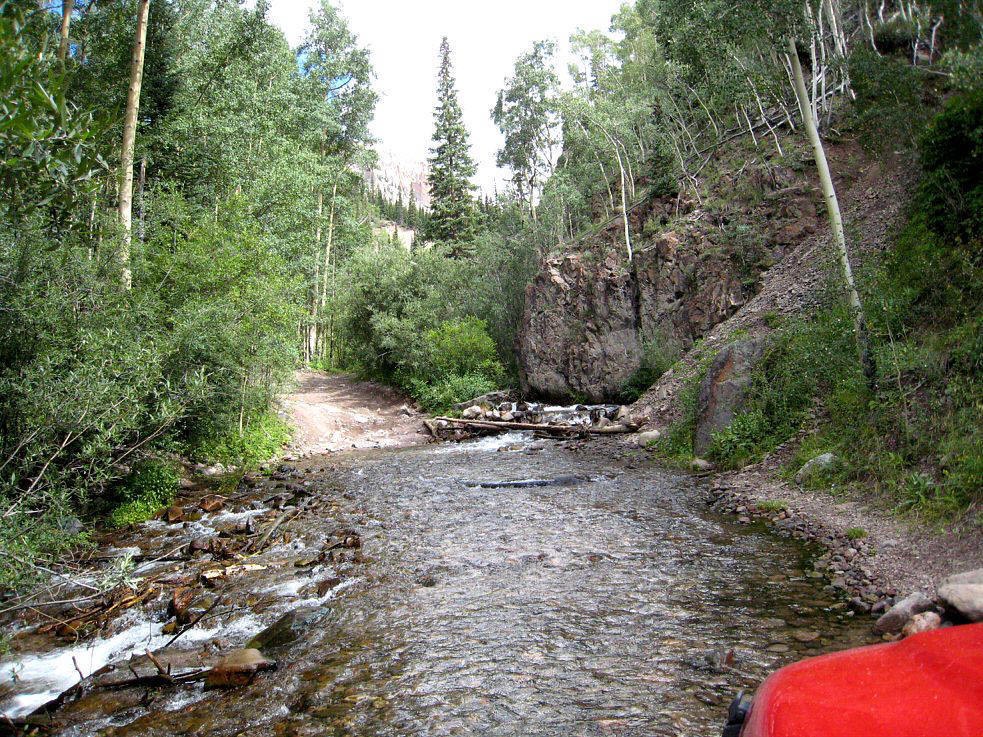 Nellie Creek - a nice side trail from Engineer Pass Trail. About 4 miles long with many waterfalls, water crossings and finally views of Uncompahgre Peak.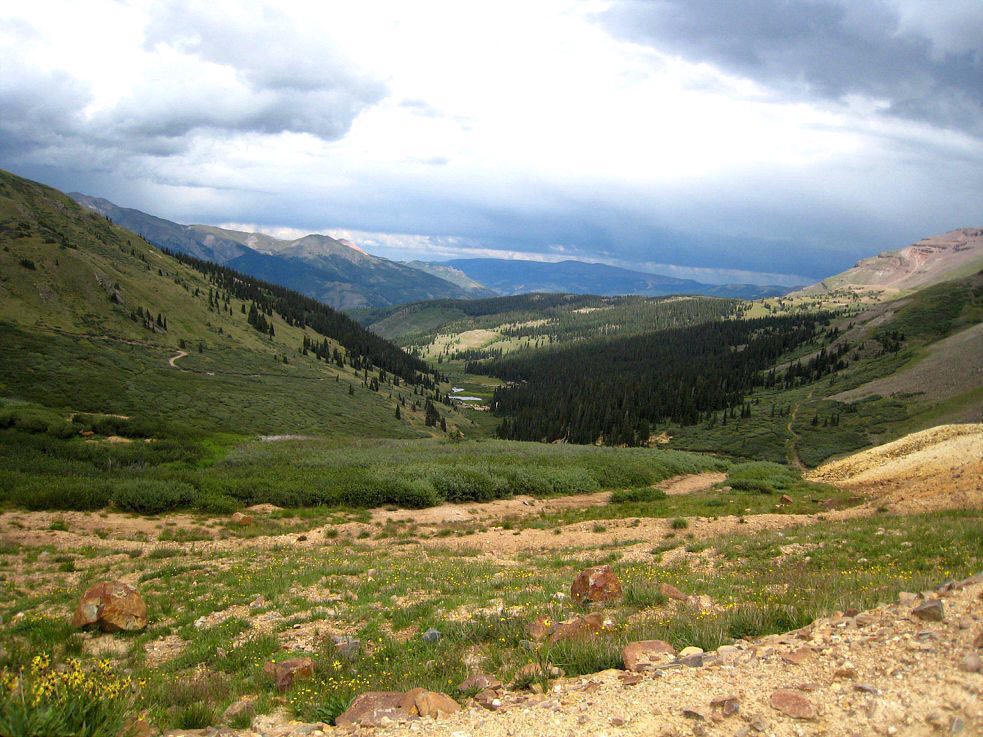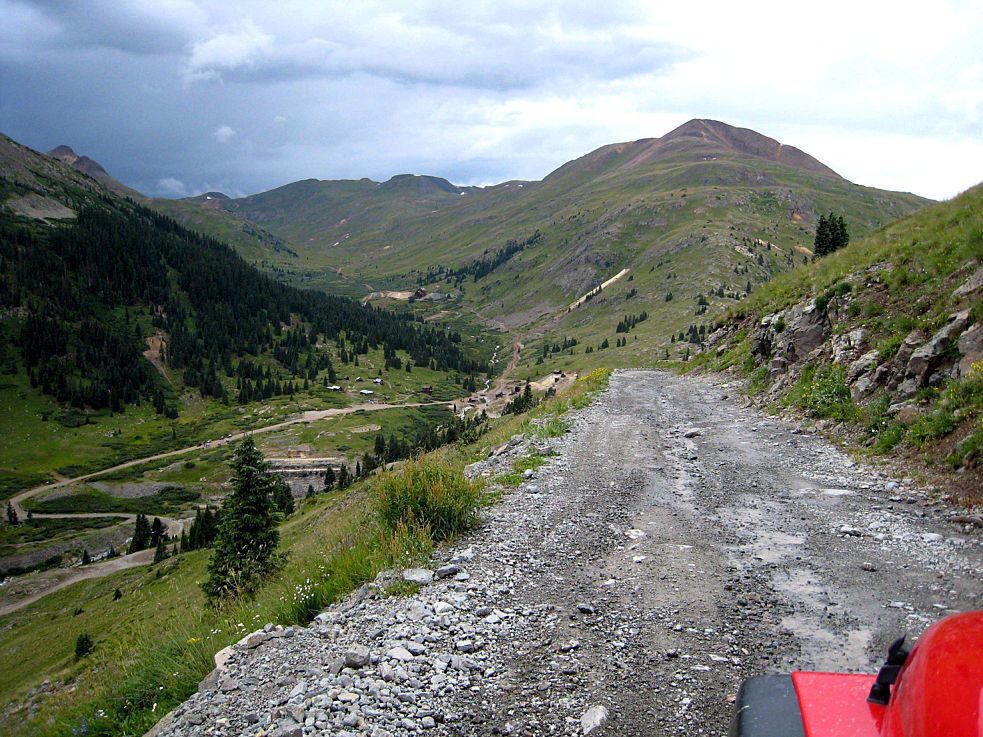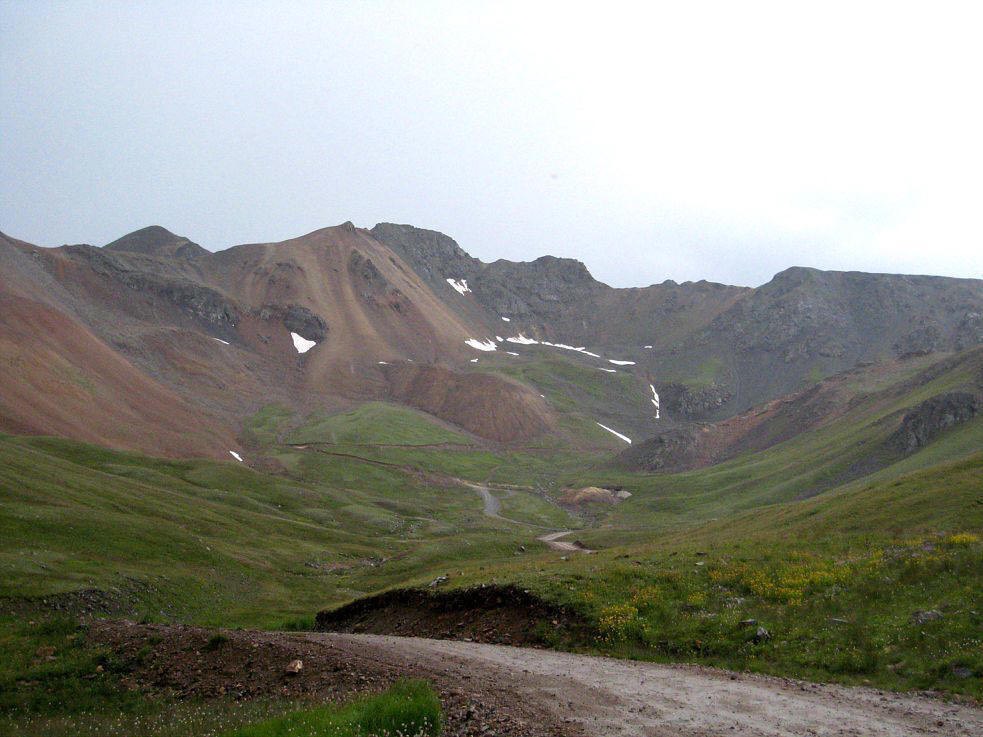 Cinnamon Pass - the second part of the Alpine Loop winds through 27 miles of incredible vistas. This western half of the Loop also takes you past many historic views and interesting side trips. I took Wagner Gulch to the historic Carson Ghost town and then continued back toward Ouray. Several times I ducked under trees because the hail was so huge and violent that I thought it would penetrate the roof. Just before reaching the pass at 12,640 ft there was another scenic shelf road with embedded rock that under dry conditions would be a cake walk but when following a downpour gets your attention.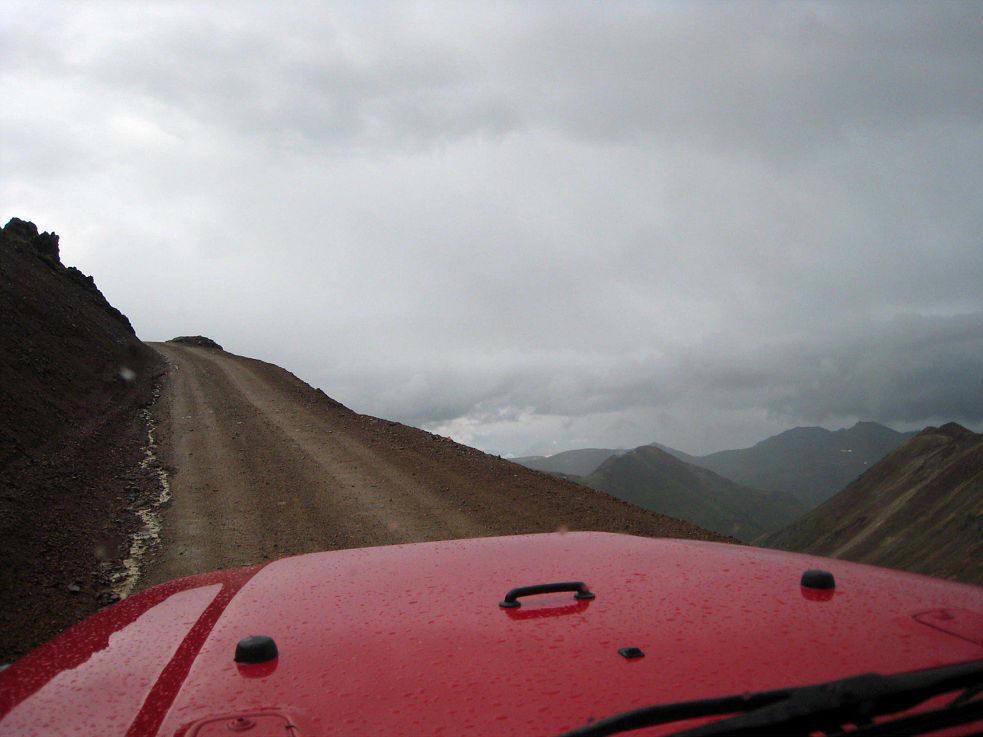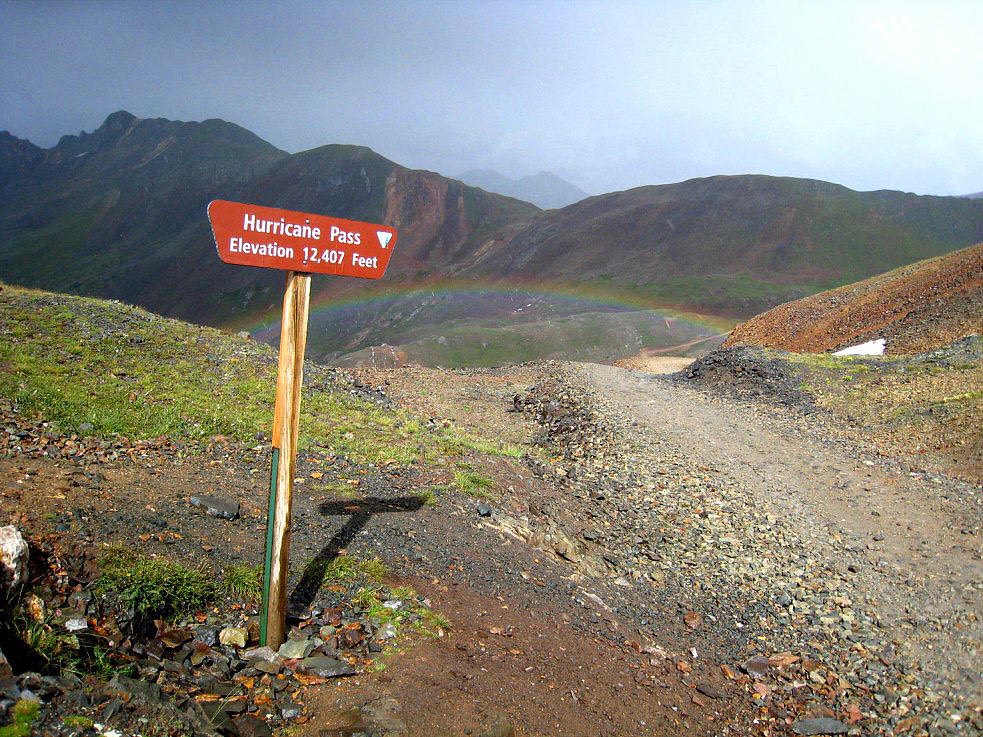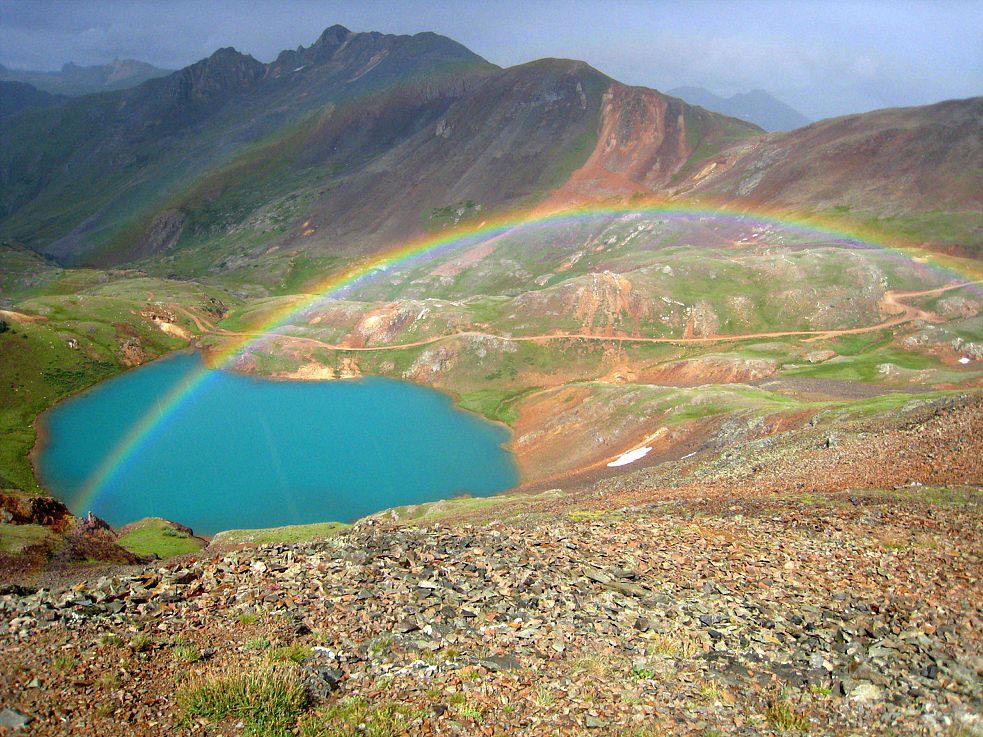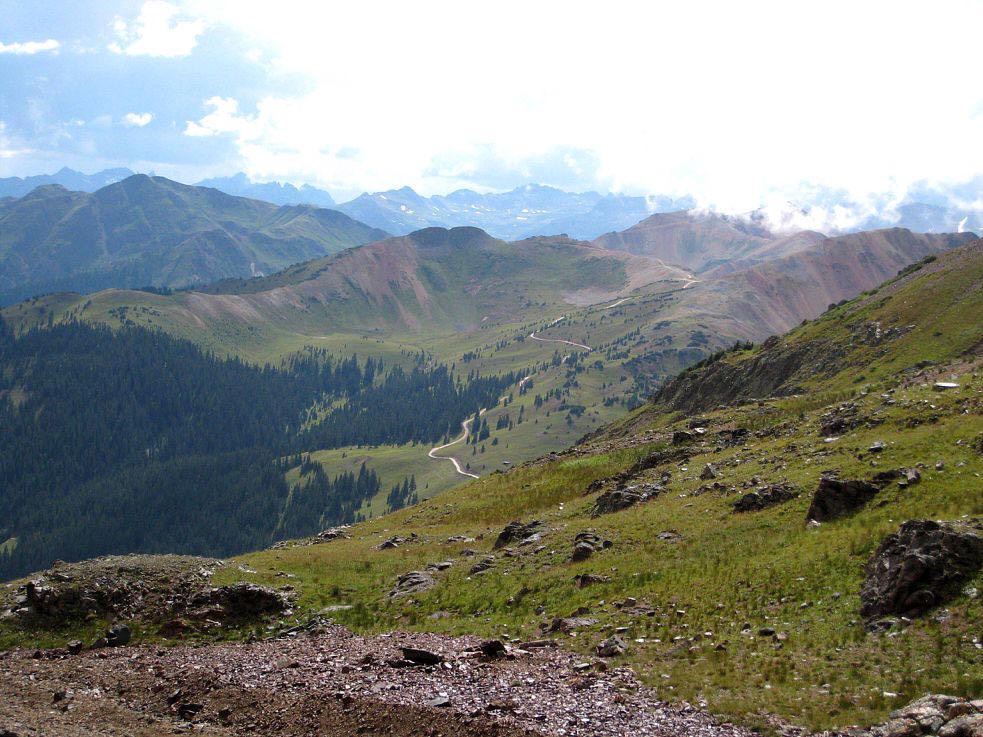 California Gulch Pass Trail and Hurricane Pass Trail was one of my favorite side trips. Starting at the famous Animas Forks Mine it was about 5 miles to the summit of California Pass at 12,940 feet. There was a very steep shelf road that climbs to the westward side of the pass. I continued on via the very long shelf road to Hurricane Pass at 12,407 feet. It was the usual on again, off again rain storms but when I reached the summit of Hurricane Pass I was afforded a spectacular rainbow over Lake Como that photographs will never justify.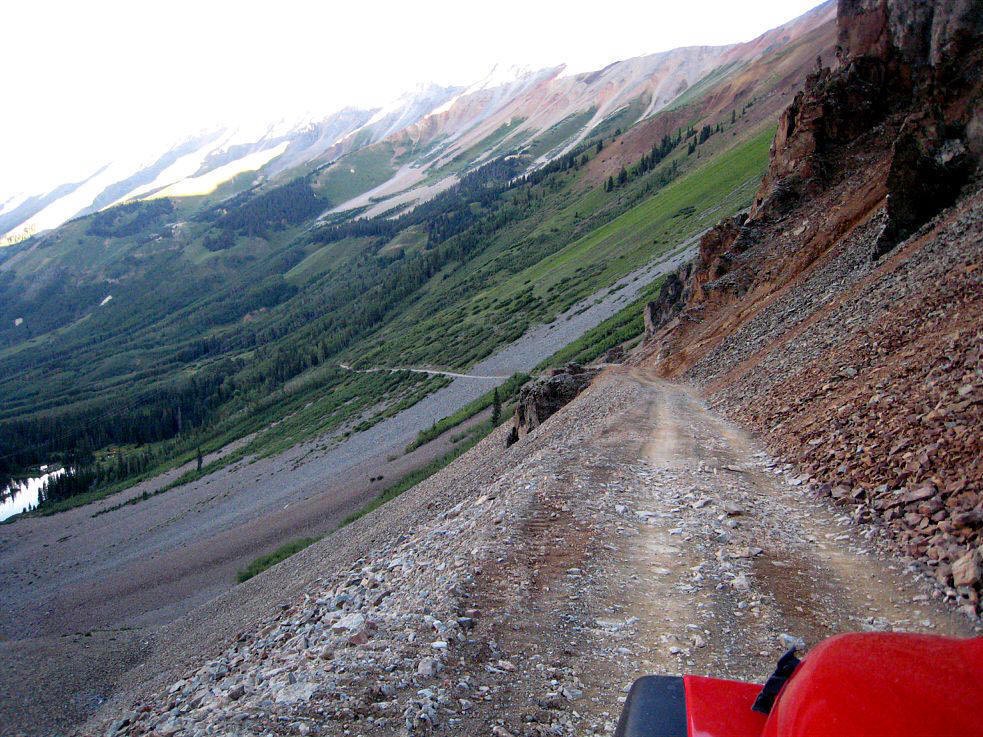 Ophir Pass  - I was at the trail head of Ophir Pass at daybreak to avoid the road works on the Million Dollar Highway and the daily clearing of rock and mud slides that occurred continuously throughout the week. Its amazing how much mud can wash down a mountain in a downpour. It certainly slowed the motorcycles down a bunch which is pretty amazing when considering they usually only move at the speed of an English caravan with the tow vehicle stuck in second gear. Ophir Pass was a 10 mile toll road built in 1891 but today is a very nice (free) scenic route from Silverton to Telluride. It is a very picturesque route with just one section of rocky shelf road on the west side of the 11,789 ft summit. After the shelf road you pass through sections of Aspens trees, several steam crossings and many beaver ponds.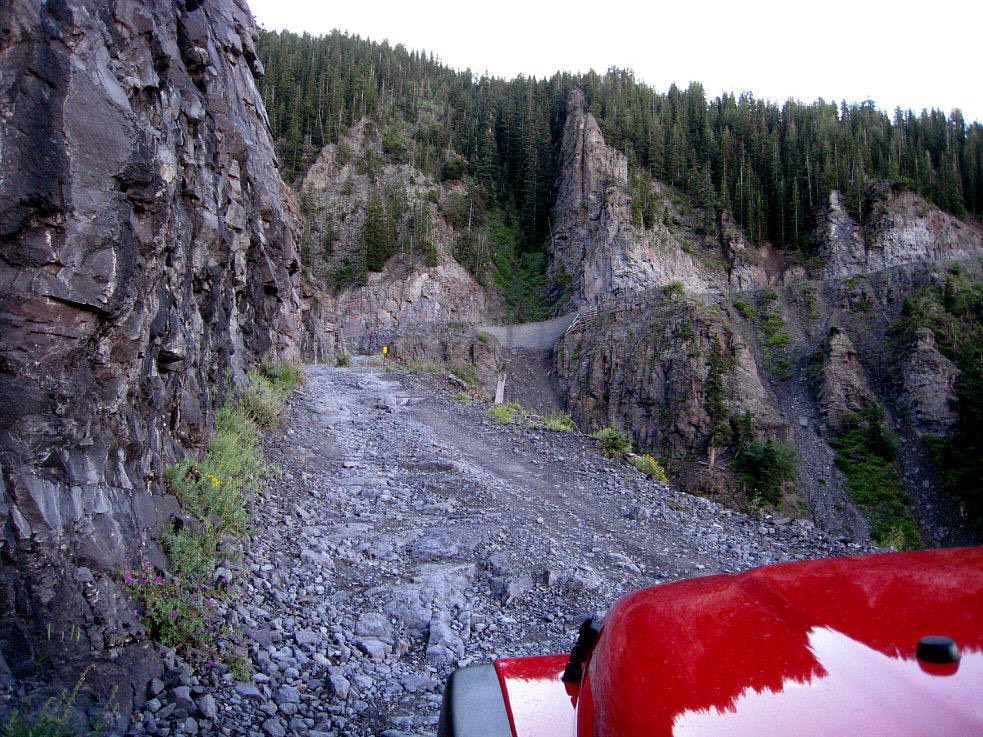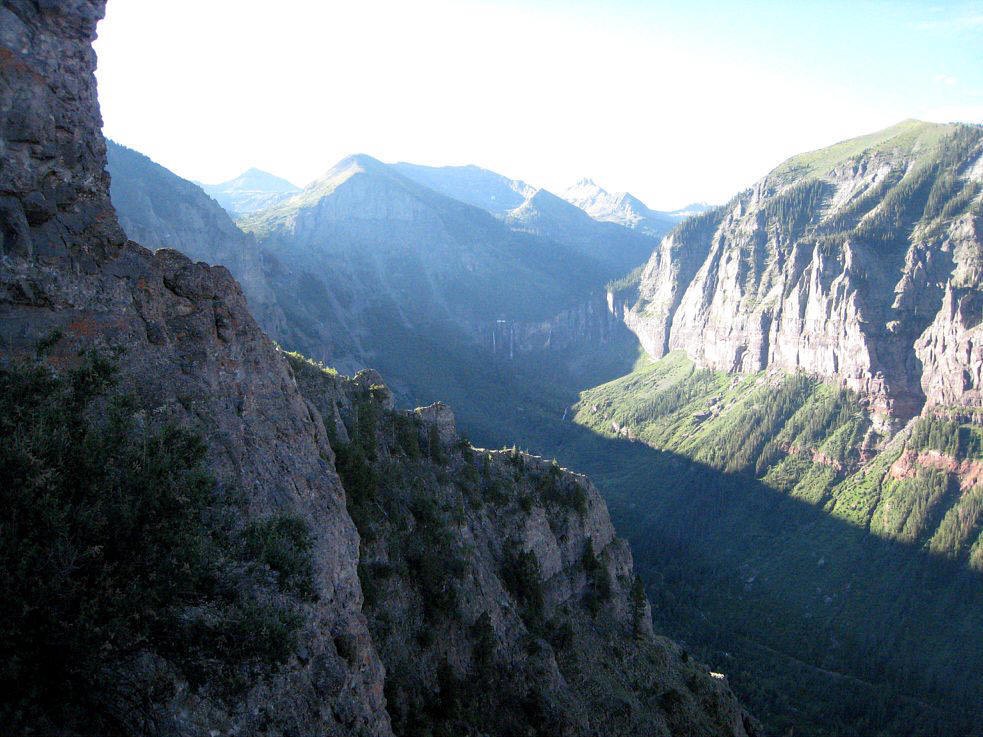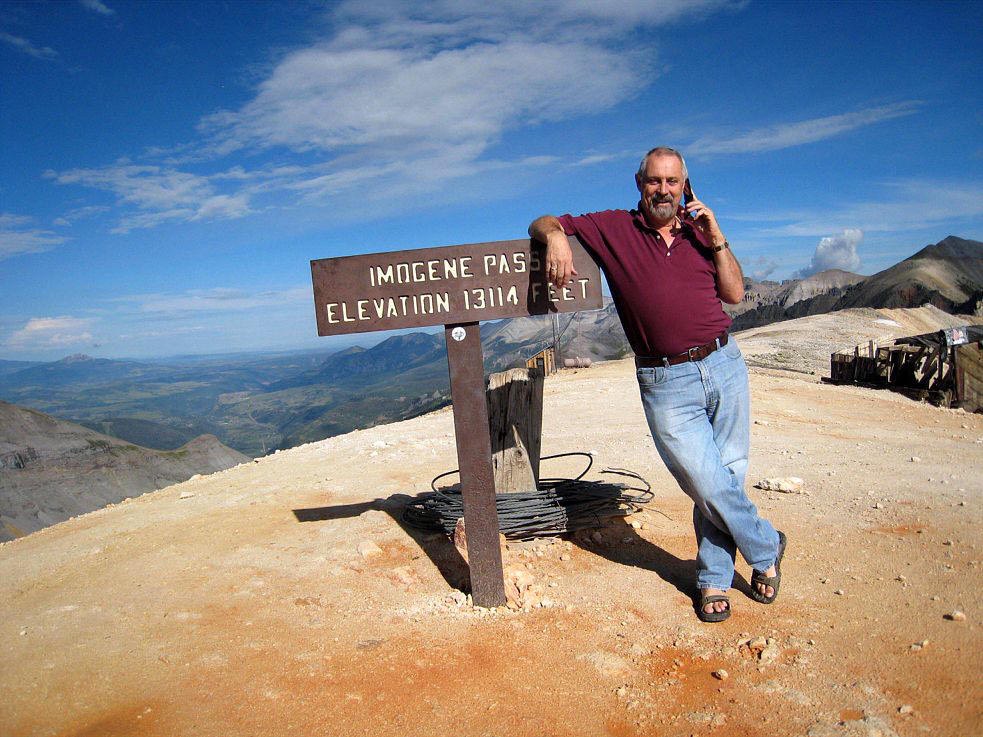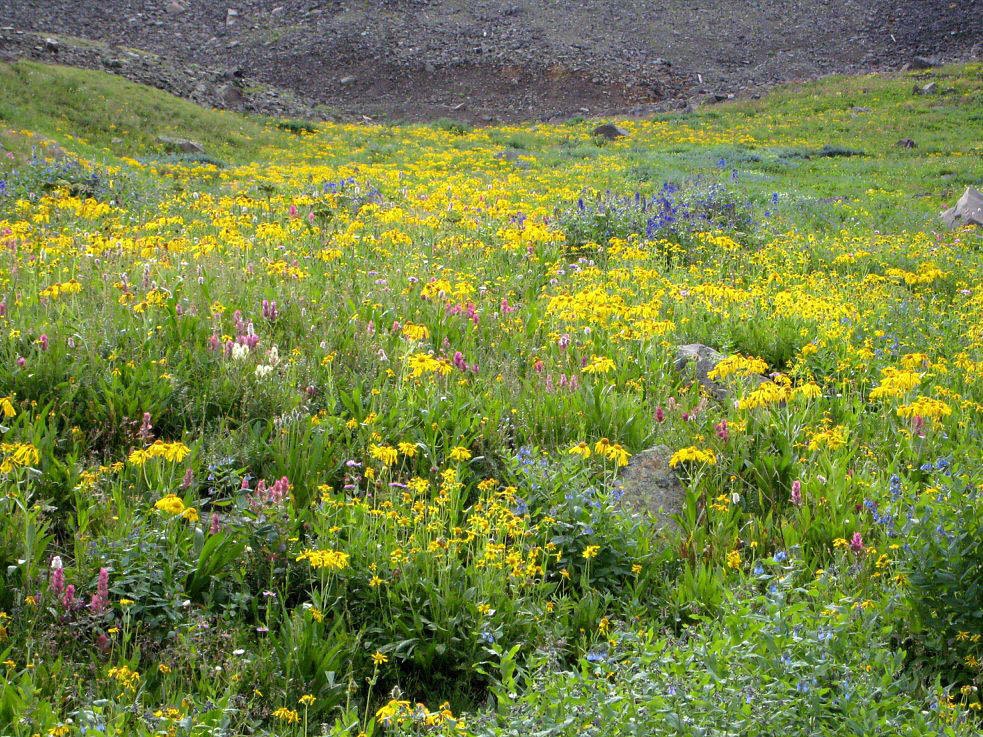 Imogene Pass is the second highest drivable pass in Colorado and probably one of the most amazing and probably the busiest. Fortunately I started very early on the west side of the mountain in Telluride so was able to beat the rush hour traffic for the first 10 miles on the east side of the 18 mile trail. The miners who built this trail must have employed some very big rabbits to gnaw through parts of the mountain to make tunnels. There is a huge mining complex at the top with loads of side trails to get lost in. As I neared the summit and whilst traversing the last shelf road my son called from college and at 13,114 feet it was not a roaming call. The east side of the trail was filled with rent-a-Jeeps, tour Jeeps and a multitude of other SUVs. Very few ventured near the summit but the fields of flowers and some of the side trails were fairly busy. Side trails to Governor's Basin were devoid of other traffic thanks to the guide book description of narrow, off camber shelf roads, etc or very rocky, difficult, etc. Nevertheless it was a very beautiful trail.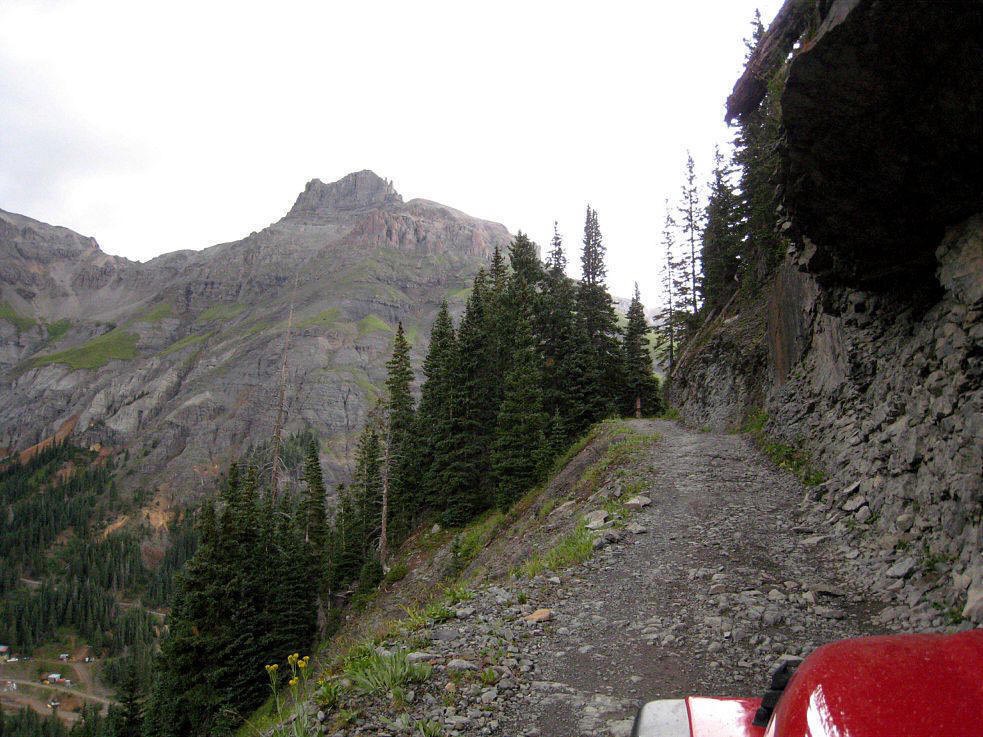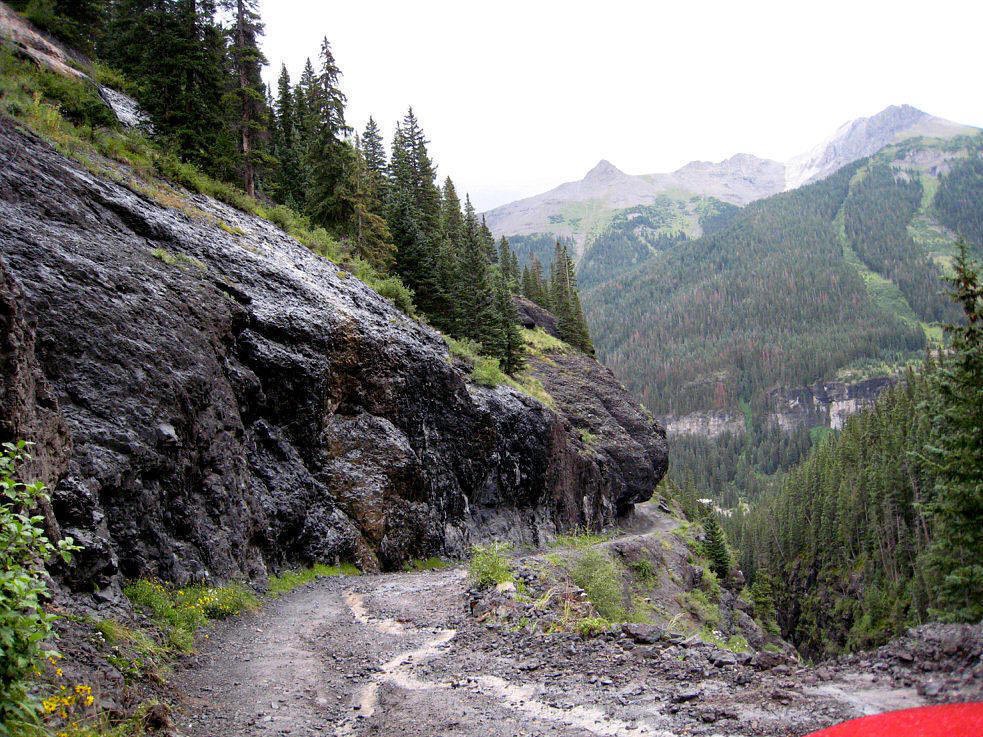 Governor's Basin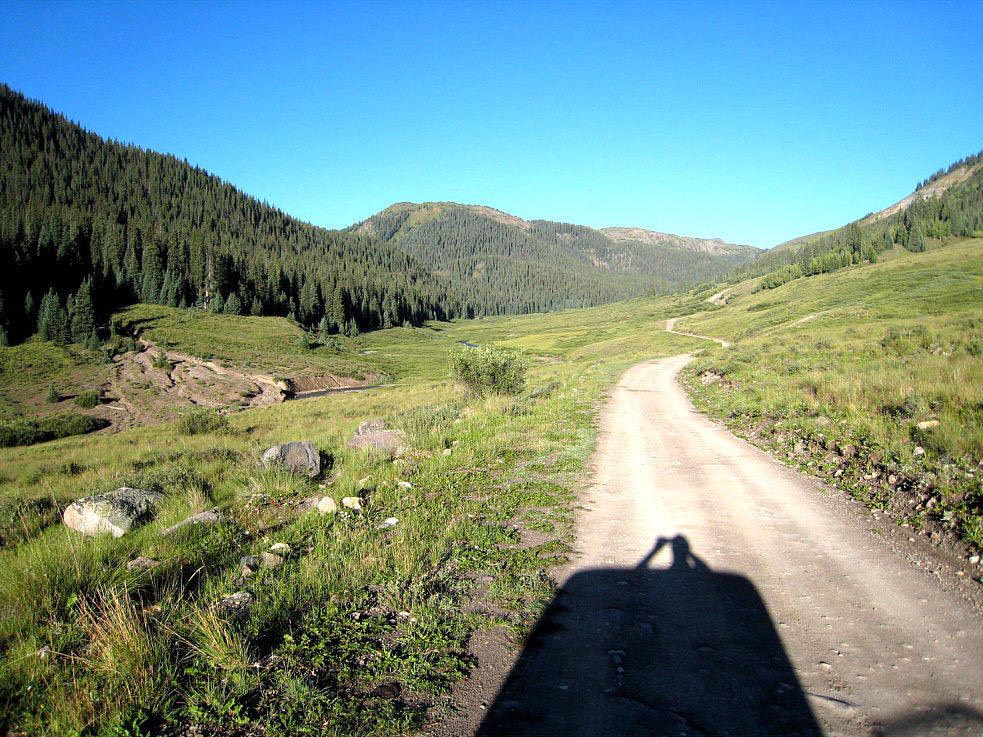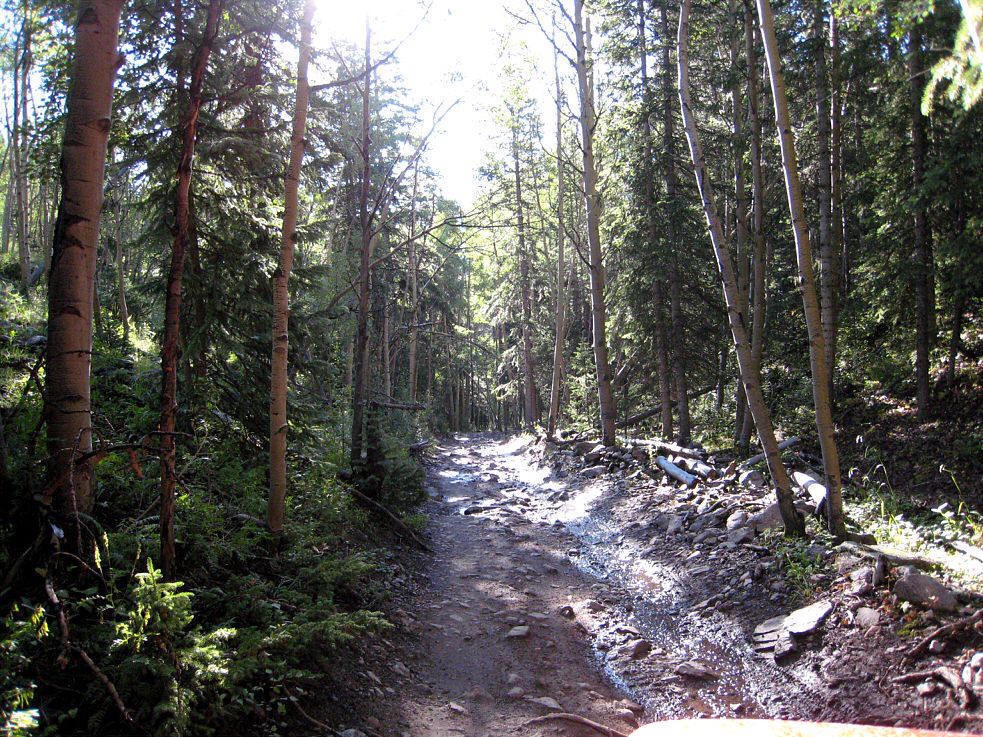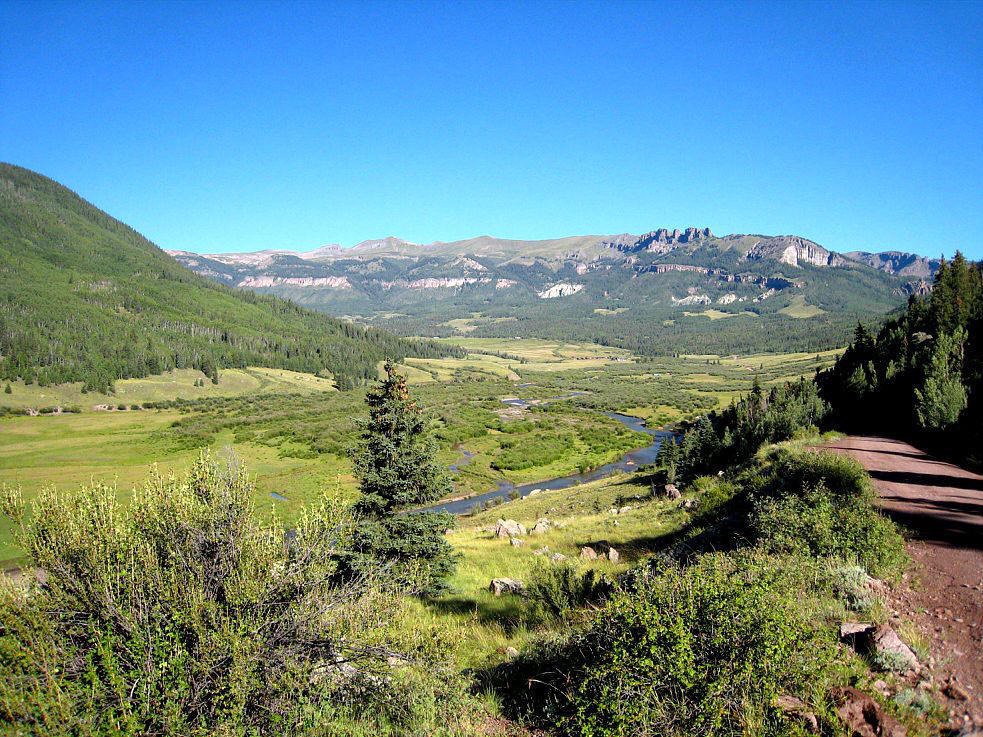 Stoney Pass Trail was wonderfully devoid of other vehicles. In fact I did not see another vehicle for nearly 30 miles. The trail is varied and starts steep, narrow and rocky and gets rougher as it climbs up a ledge over looking Cunningham Gulch with some parts no wider than the Jeep. As the summit is reached at 12,650 feet you are in a beautiful alpine valley.  The rest of the trail is varied with wide parts of trail, valleys, forests, stream crossings (some quite deep) , muddy patches, and many beaver ponds. The rains made the trail more interesting than if it were dry. Sadly after a mere 35 miles the trail ends at the road to Creede.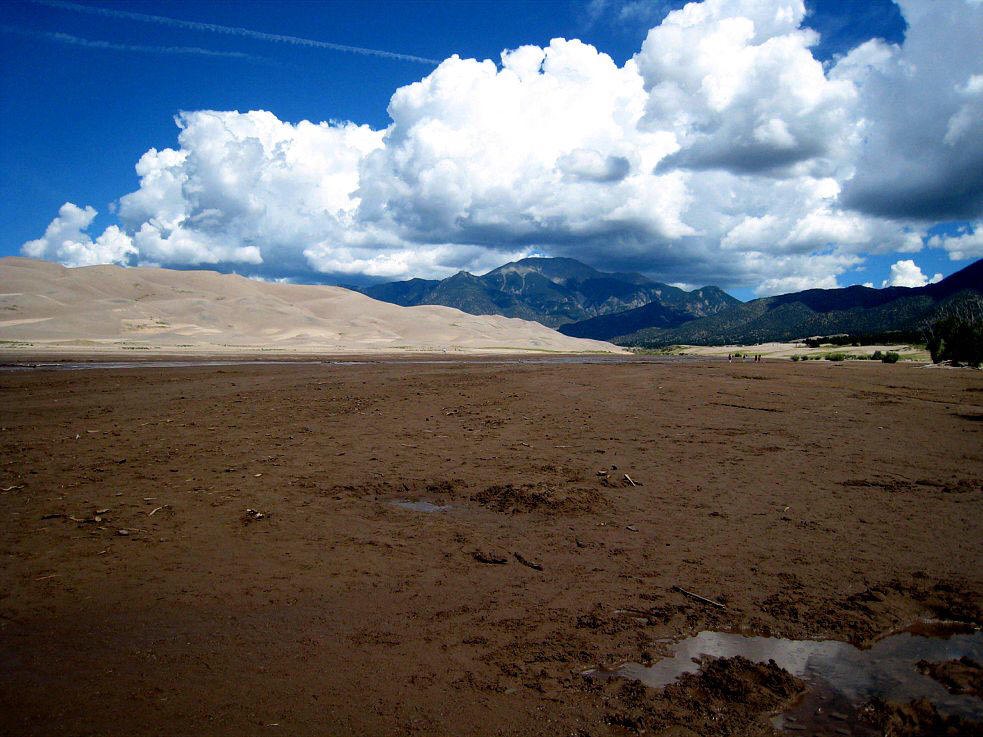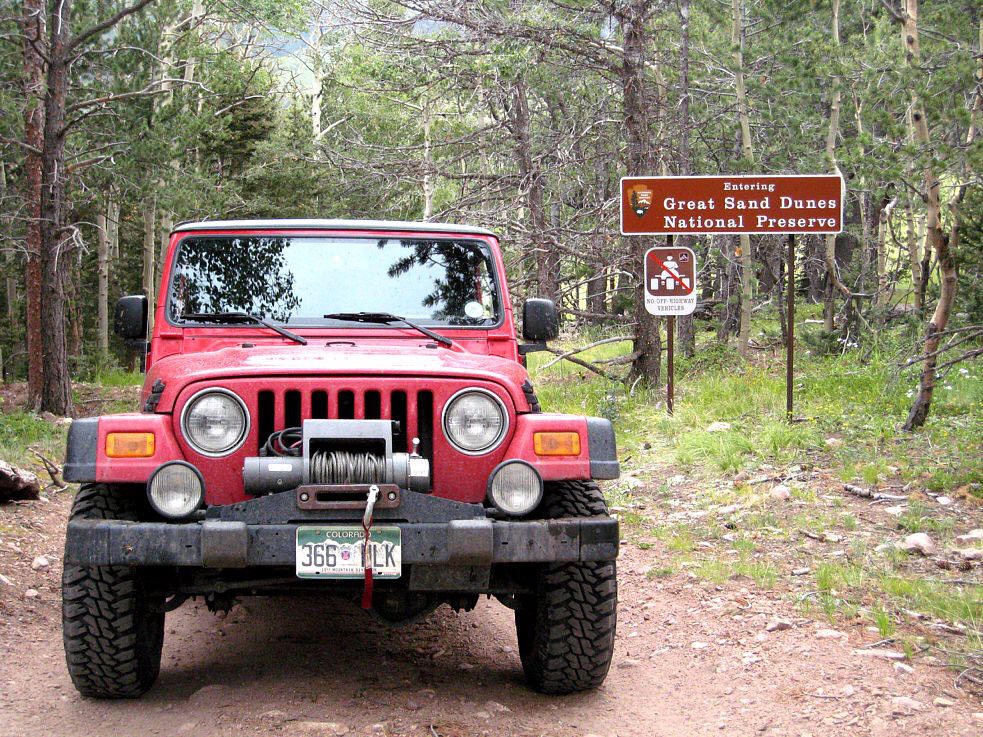 After quite a few hours of suffering black top roads and traffic the thought of a quick trip to the Great Sand Dunes National Monument became more and more appealing. The park was mostly occupied by European tourists enjoying the weak Dollar. It was very pleasurably to drive past the "road ends" signs and the many rent a cars that could go no further. Medano Pass is the back way out of the park and was restricted to 4WD vehicles only. The myriad of warning signs must keep the curious at bay which was just fine by me. The trail is 20 plus miles of soft sand,  a few rocky spots, a multitude of stream crossings that actually had fish in them, wild life including mountain sheep that were very reluctant to let me pass until one good burp from the teriyaki jerky I had been chewing on had them running for fresh oxygen. After the pass at 9,950 feet the trail wound down through the forests to the ranch lands of Colorado.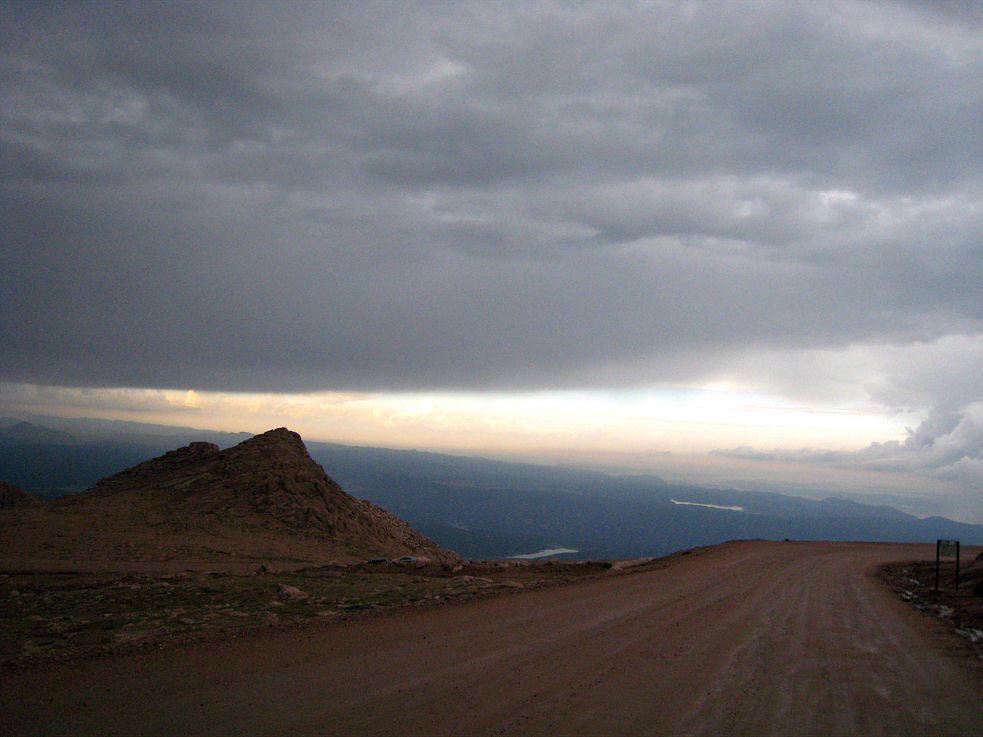 I was really heading home when I saw the the sign to Pikes Peak. It was raining with thunderstorms and lightning. The view at 14,110 plus feet was none to bright but the lightning show at that altitude was amazing and just so you will be able to sleep tonight with more useless information that you could certainly without Pikes Peak is the 31st highest peak out of 54 Colorado peaks.
Dave's navigating was no better than my reading of the maps and GPS. There were no problems finding the trails and passes but finding Interstate 70 was just impossible. I picked up the LJ with 3,030 miles on the odometer but by the time I arrived at the homestead seven days later it had 5,300 miles. The first week of ownership was good.
7000 miles in 7 weeks in a red Rubicon Unlimited!!! - Part 2 - Modifications and Utah