Two Rivers Jeep Club
Trail Building March 16th, 2002
Pittsfield, Illinois
by Graham McNeill
6:30AM Crawl out of bed to the sound of the Pike Motel wake up phone

7:15AM Pick up a cup of coffee from McDonald's

7:20AM Cuss because Subway still refuses to open before noon. They are missing out on a lot of business.

7:30AM Roll into the VFW parking lot to have breakfast, say hi and head home.

7:45AM Sign In with the lovely Lauralee Persons. If you don't sign in you won't get credit for working the weekend. You also sign in any guests here and get a waiver signed.

7:50AM All you can eat breakfast served up by the cooks of the VFW. Scrambled eggs, bacon, sausage, hash browns, sausage gravy and biscuits, toast, cereal, juice and coffee - all for $5.00. Fuzzy Anderson is going out alone and I am tempted to go with him. I'm supposed to be heading back home to do honey dos. I picked up my Willys from John Toumbs Repair the night before and know I should head home.

8:00AM Tech Check In - Get your 2002 vehicle safety sticker here. The list of what your vehicle needs to pass is on the TRJC web site. Thirty two vehicles were inspected by the Tech Crew today.

8:05AM Go see what Chad and Frannie Suhre have for sale at the goodies desk. Pick up your free decals here if you are a new member.
9:00AM Trail Assignment - Trail Boss Tim Miller (far Left) reads the list of available trails and tells all who is going where. Sixty two hearty, willing souls ready to work and as the picture shows, less than 1 in 10 is paying attention. At least 8 or 9 different trails will be worked on today. Some members will work harder than others!

9:30AM I'm heading out to the trail and calling the wife to tell her I've been forced to go wheeling with Fuzzy. I just found out he's younger than me so I know he needs my mature guidance.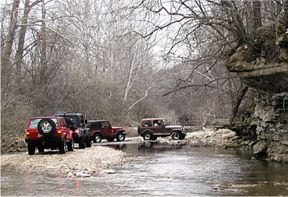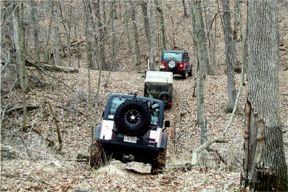 The Trail Building crew for Mossy Mountain was Trail Leader Tom (watch out for your Pecan Pies) Miller who played tail gunner for the day. The trail was lead by the tail gunner Carey Levoy who would later be renamed Hamer Levoy. What a slave driver!!! Hamer Tate would be proud. The rest of the crew was Dave Jarrick, Carey Hendriex, Fuzzy Anderson, Jim Vanderborg, Gary Shadwick and Steve Johnson. Members stealing rides were Lauralee Persons, Tim Miller, and myself.
We even did some work, in fact we did a lot of work. Hamer - I'm mean Carey, did a lot more than us but then again he was the one with the scissors and gardening rake.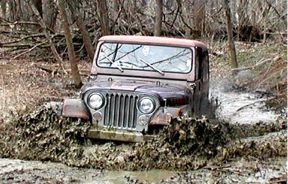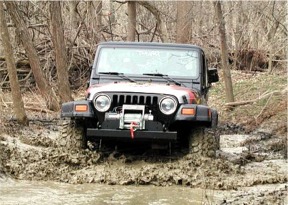 Cary Hendriex and Gary Shadwick playing in the mud.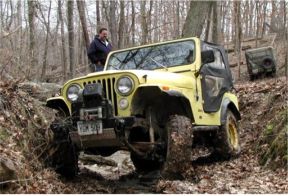 Fuzzy Anderson in his 1976 CJ5 and Tom Miller in his 33" tired XJ.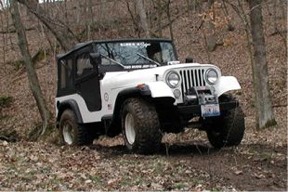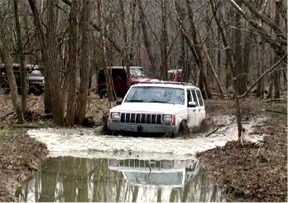 Dave Jarrick's CJ5, and Carey Levoy, wife Janet and three kids playing in the mud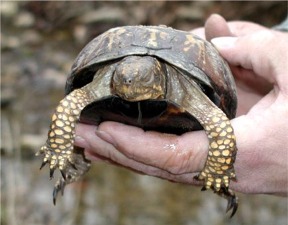 Saving some wild life - this is a box turtle. In just one field we saw 19 turkeys- 20 if you include Tim, 2 deer, a squirrel, a dead cow and a partridge in a pear tree (well Fuzzy said he saw it)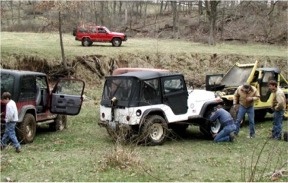 4:00PM - It's getting cold, Carey's kids are tired so he, Steve and Lauralee head for home. Trail leader Tom Miller threatens to give us a good time on the the first part of Mossy Mountain that today was the second part. Yep, he sure knows how to a give a guy a good time. He couldn't find any Pecan Pies to steal so he carefully guided his XJ though a narrow part of the trail. Fuzzy follows Tom, but Jim, Dave and Gary each manage to run over a fence post hidden in the leaves. Three tires ripped to threads in a matter of seconds. Amazingly two tires were changed and one plugged in fifteen minutes flat with the help of Fuzzy's York air compressor and power tools. At this point it is decided to end the day. Jim and Dave hammer off to Quincy to get a new tire and the rest of us head back to Pittsfield.

5:30PM - Back in Pittsfield and really not wanting to drive the 250 miles back North. The boys are threatening Red Dome and I'm weighing the cost of staying over one more night or going home like a good boy. The heck with it, I'm staying, the wife is at the mall spending money, she says if I stay she's going back to the mall and spending more.

7:30PM - We're chowing down good food at the Red Dome Inn and trading insults with Craig Olsen and Stu Fotta - (Trail guides on Montezuma). They are trying to convince me to unload my Willys and go wheeling in the morning. I tell them to go to hell, it's too damn cold!

10:00PM - I'm done drinking at Lindsey's Bar, I leave the younger boys to keep up the good work and head back to the Motel;

7:00AM Sunday - I sneak out of town in the rain. There is no-way I'm running into those crazy characters from Montezuma's Trail. They'll steal my Jeep and make me go with them. I grab coffee at McDonald's and head North to face the wife - hell, I'm only 24 hours late!!.