THE SAWTOOTH MOUNTAIN TRAIL
Miller County, Utah
September 2008
I have always been fascinated with US 50, the stories and the desolation so when I was looking for a route off the beaten path between Logan, Utah and Las Vegas the Sawtooth Mountain Trail never entered my mind. It took a bit of finding along with the discovering there is an Old US 50 that makes the new US 50 feel like the Eisenhower Expressway in downtown Chicago in winter rush hour. West of Delta, Utah are some great trails like the Sawtooth Mountain Trail, The Fossil Beds Loop not to mention exploring the old US 50 and roads like Death Canyon Road or not go see something named Skull Rock Pass. It's just plain impossible!!
Sawtooth Mountain Trail is a nice easy set of trails within the Warm Springs Resource area. About the only people that use these trails are ranchers so it is not likely you will see another sole, and I didn't. It takes a fair drive from Delta to reach the beginning of the trail and of course once you find about Old US 50 you just can't take the new US 50 to get there after all you may actually see maybe 3 or 4 other people within the 30 miles from Delta. The trail is a combination of graded roads, unmarked dirt roads and even a section of rocky, moderately steep climbs up the canyon with plenty of ledges to keep you occupied. One spur trail takes you to the top of North Canyon and a majestic panoramic overview of Sevier Lake and Miller Canyon. Other spur trails get a bit narrow for the JK as they are mostly used by ATVs. One such spot got so narrow I had to back up several hundred yards to find a turn around and then I got my front tire jammed against a boulder. The gutless wonder of the 3.8Litre motor Chrysler though so smart to put in this Jeep just didn't have the guts to pull me over the boulder. I tried to switch to 2Wd low and end up in neutral. I couldn't get the Atlas to shift from neutral into 2Wd or back to 4Wd. I was sitting alone on a shelf road with as much chance of being rescued as being invited to dinner with a Big Foot. After about 30 minutes of sweating and thinking about the big footprint I used my big foot to persuade the twin sticks to cooperate and the Atlas shifted back into 4 high which was that great because I was still stuck on a boulder. A little more big foot and the JK lurched over the obstacle. Gotta love those Rock Jock 60s on a day like this.
After cruising around Dome canyon pass, the Thule Valley, Marjum pass and climbing up some good size mountain passes I head back to Delta and the mobile office.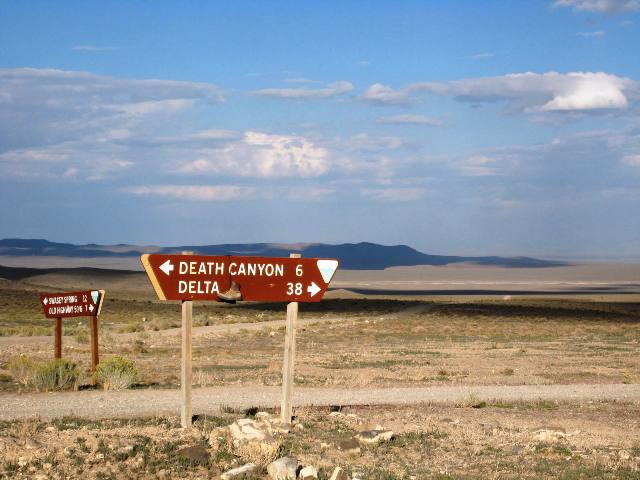 So when do you suppose someone noticed they had left their boots on a sign 38 miles from the nearest town?
View of Sevier Lake and Miller Canyon from the top of North canyon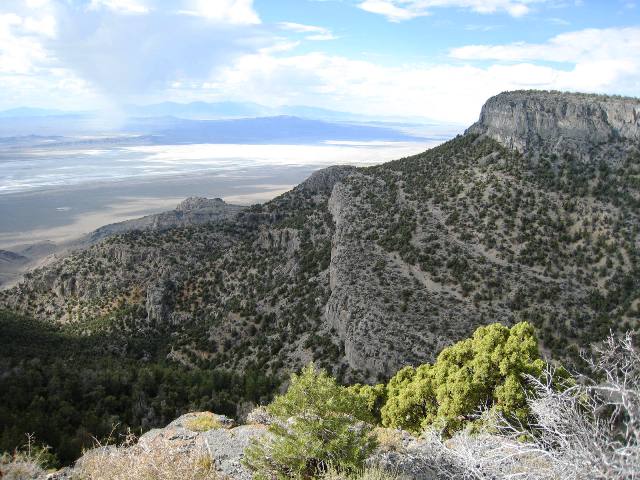 Miller Canyon from the top of North Canyon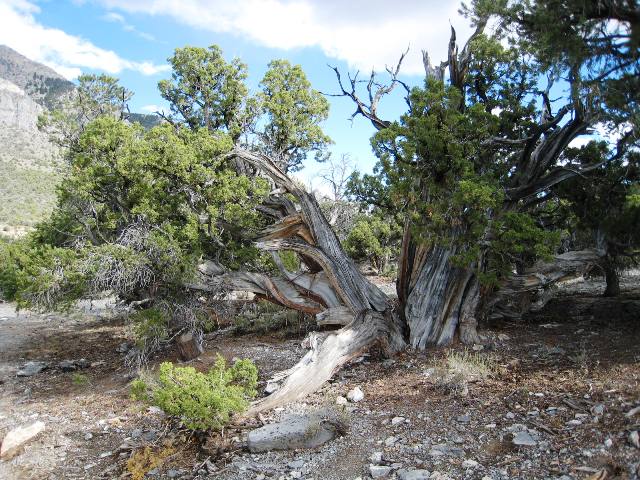 So what split this tree?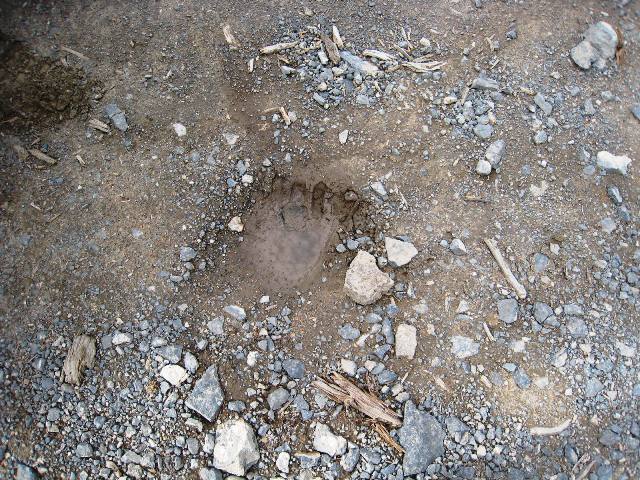 Was it this? Big Foot? I stopped what I was doing and scooted quick!!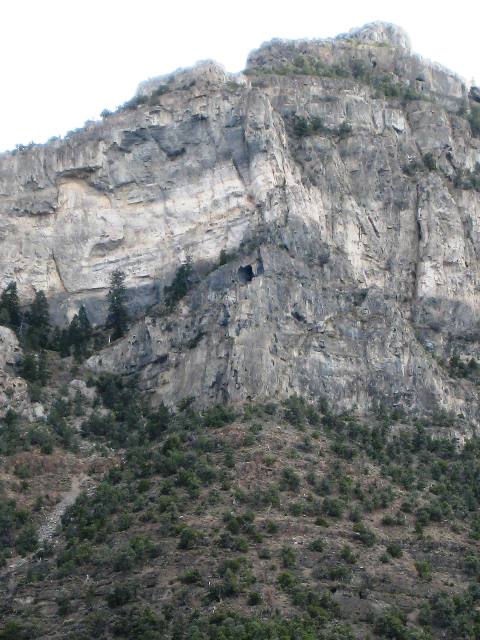 It has always fascinated me how a miner decides what spot
on a remote mountainside would be a good place to dig.
Sawtooth Mountain Trail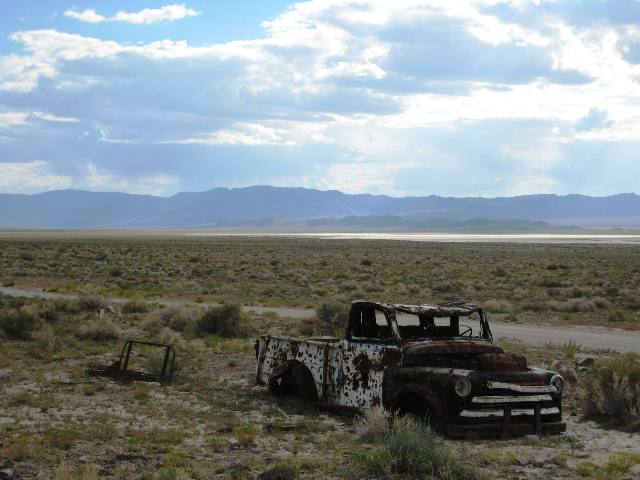 The book said to turn left at the Rusty Truck. Quite accurate I would say.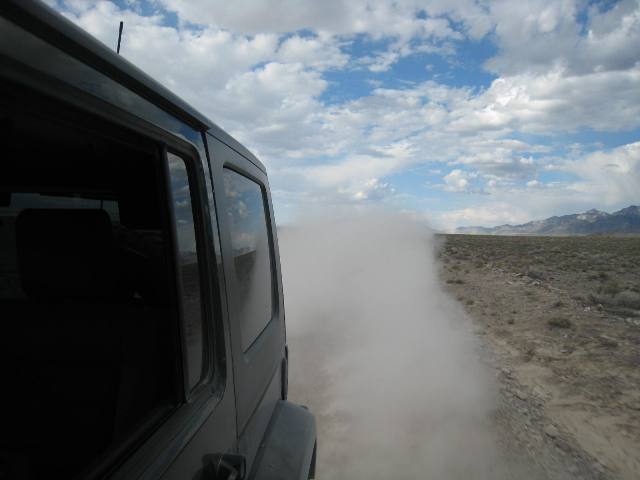 I'm glad I wasn't following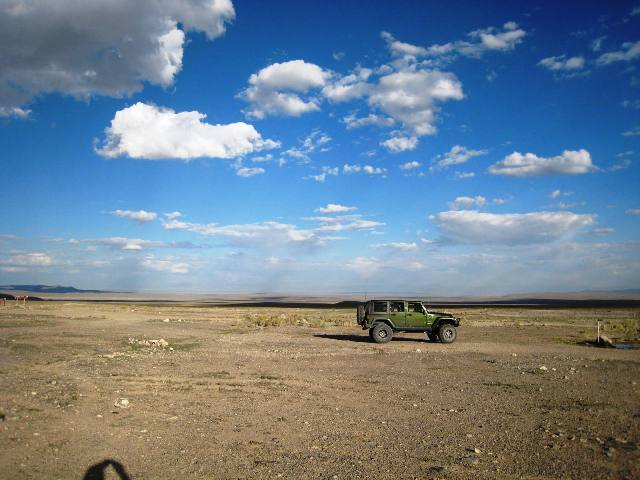 An oasis with Delta about 40 miles due East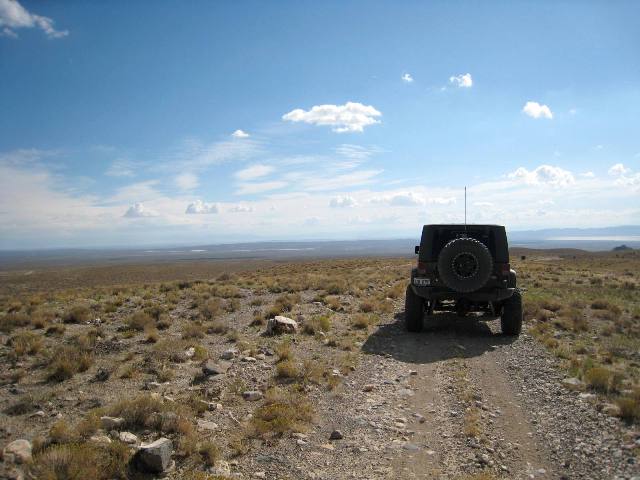 Reassuring to know you have a 300 miles gas tank rang