2003 Illini Safari
Hosted by the Two Rivers Jeep Club
Day One: Suzie's Knob - Rated 4+

Team Plesko was out in force for a day of wheeling that turned out to be a game of just how high can you lift a tire. It was an auspicious start with the Trail Guide's TJ blowing a rear end before we even got to the trail. I won't mention his name (Shaddy that is) for fear of embarrassing him. Still a blown rear end was certainly less painful than the drawn out Driver's meeting that lasted nearly 30 minutes.

All the Jeeps were adequately equipped for the trail. Everyone had lockers front and rear, winches and big tires, but more importantly, a good attitude. Our guides jumped into other Jeeps and we were off. It didn't matter that we got lost or went the wrong way, when you are with good people if just makes a good day great.

Timmy Miller joined us for a segment of the video shoot. He's pictured below after taking a little (well a lot) of abuse for winching up the first obstacle. All but one of the Jeeps had to winch but he was first.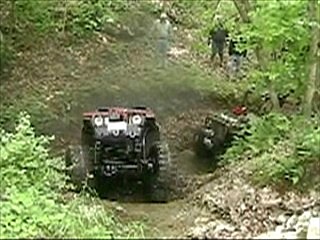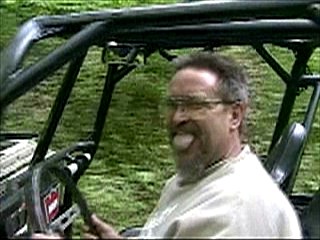 The last time I tackled the Knob on the Suzie's Knob Trail it cost me a rear axle. This time it nearly cost me an endo. I went vertical, and came to rest on my rear bumper and springs. It just sat there motionless. The only movement was Trail Guide Shaddy cracking up with laughter at the expression on my face and wondering if my repaired heart would hold up. I had time to look around, debate what to do, think about rolling over backwards, and to think a myriad of other unprintable thoughts. John Toumbs who is featured on this month's Two Rivers Jeep Club picture of the month with his endo, had explained how he put his Jeep in reverse and drove it out of a potentially sticky situation. Simple I thought, throw it in reverse, but nothing happened, "You're in park dummy" came the kindly advice from Shaddy. I gently popped the shifter into reverse, still nothing, Shady still heckling but secretly wondering what I was going to do next, again with the advice bordering on down right sarcasm suggested that easing off the brake peddle and applying a little gas would help. He was right, down she came and no harm done, except the cameras and video crew arrived after the fact, just like a good fishing story.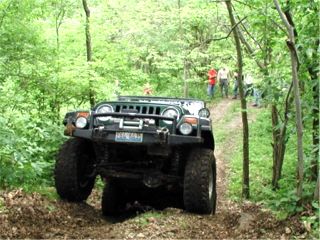 Jim Plesko on the left and Andy Parker on the right climbing the Knob. Doesn't look like much but timing is everything on this obstacle, Unknowingly, Andy would crack both upper control arms on his TJ. They would snap completely the next day. Just as a side note - He was on Murphy's Law Trail. Landowner Gary Williams (Murphy) went back to his farm, hooked up a tractor and trailer, came back and not only got Andy and his family off the trail, but took them all the way back to town, got him loaded on his trailer and then went back to the trail to continue to have fun with other Jeepers on his land.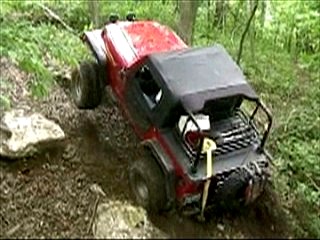 This is Jeff Dieken on the left and Steve Runyon on the right on an obstacle I can't remember the name of. How the heck are you supposed to remember them all anyway. It was one heck of a challenge though.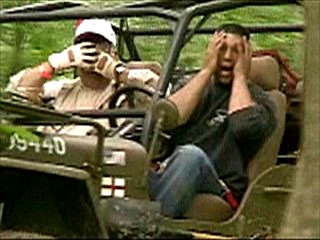 Yep, they stole my Willys and then fought over who should drive (wreck) it. Hear no evil, see no evil, but I sure spoke some evil!! It took some work to get it back and you should have seen the mess they left it in. - it was clean all over.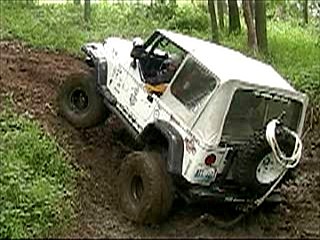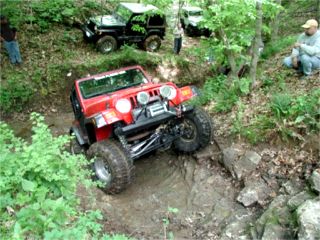 This is Tank Schultz on the left and Jeff Dieken on the right doing a space shuttle imitation. Ed Leach pretzeled the tie rod on his XJ on the obstacle on the right and had to limp home alone. Tank was on form by not only forgetting to turn on his cooling fan once but twice during the day. The second time blowing the top right off his radiator. Just another minor technical difficulty to Tank and his Troublemaker son. They had it fixed enough to go wheeling again the next day.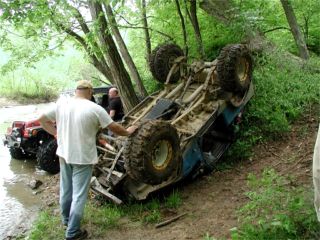 Steve Runyon showed us how not to enter the creek, Fortunately no one was seriously hurt and the Jeep went on to trail ride the next day. It was a tricky recovery that was orchestrated immaculately by Doc Schreiter and performed flawlessly by Team Plesko.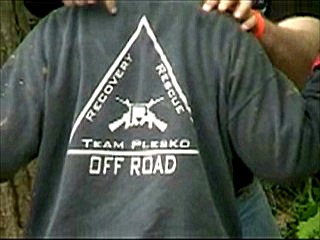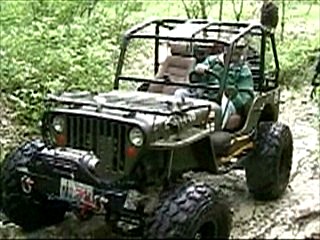 We got back after 6:00pm from a great day of wheeling.
Day 2: Montezuma's Revenge - Upgraded to a 5 Rating due to the rain.

Sixteen Jeeps, two great guides, but several Jeeps with open diffs, no winches and some drivers on their first trail ride. The morning was spent helping others get through to lunch. A few drivers that didn't even get out of their Jeeps to help themselves let alone others put a damper on the morning's activities. Still we had loads of fun bantering on the radio. A new Rubicon lost two tires on one obstacle. Team Plesko came to the rescue with expertise and equipment to re-seat the tires while all but one of the owner's friends watched from the top of the hill.

After lunch we took the lead, enjoyed some great hill climbs while those with lesser equipped Jeeps were sadly forced to watch. This is the unfortunate part of being on a trail with the wrong gear, although they came with a bar-b-que grill and very kindly cooked hot dogs and brats for everyone. Later in the day we stayed for some more fun but Jeff's TJ bent a track bar amongst other things which totally disabled the Jeep. With some rather unorthodox improvisation Team Plesko straightened the rod sufficiently to get the TJ off the trail and onto the trailer.

Despite the problems of the day, we still had a damn good time.

Wrap Up:

The safari was well organized, with good food, great people and fine raffle prizes, including a 40lb bag of manure that was raffled for over $400.00. The club raised over $20,000 for charity by organizing this event.

For info on next year's Illini Safari and this year's 4X4 BLAST go to www.trjc.com