2001 Father's Day Run
---
June 16 & 17 marked our 5th annual running of the Father's Day Club Run in Pike County.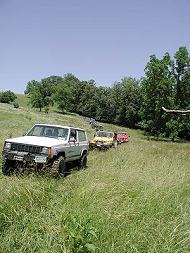 Considering how many members and Jeeps had pre-registered for this club run. We got out on the trails very early. Breakfast, Jeep inspections, Trail sign up got started at 7:30am. It was a first come first pick deal so if you got there late you didn't get the trail of your choice. The sign up went very smoothly and I was on the trail at 9:00am. I tried Montezuma's Revenge for the first time. I had fun for most of the day. I thought the morning section left a lot to be desired. We spent a lot of time in a mud hole and played in a quarry.
After lunch we traveled the furthest distance I have ever traveled on gravel roads in Pike County. We ended up very near the river at Wild Blue Yonder. Now this is a trail. Beautiful scenery, woods, fields, ravines, waterfalls and hill climbs that are guaranteed to increase the pucker factor by way too much.

Photos rarely do justice to steep hills. John Stevens has just made a right turn instead of a left at the top of a very steep hill. He's holding on for dear life and hoping his wife doesn't find out the risk he is subjecting his son to in the passenger seat. A winch was required to stop him from rolling over back down the hill.

I got my first ripped tire in 3 years on a jagged rock on a waterfall. It was only about 100 degrees and I had a couple of very capable helpers that did most of the work. Nevertheless it just about killed me to change that tire. I learned a valuable lesson though. Shawn, my 14 year old son now has a new chore on his itinerary.


The dinner hosted by Syndy & Durrell Miller was great fun. Only about half of the 230 registered attendees made to the party. Many were still out on the trails and many were just too tired to make to the TNT farm. This was not a problem for me as I was very hungry and that left a tremendous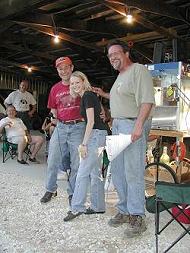 selection of culinary delights with no waiting line. The great desert selection would have been better if someone (and I won't mention Tom miller's name) had not taken the last slice of Pecan pie.

Trail boss Tim Miller awarded trophies for various acts of heroism and great deeds. But, as there was none of those, people like myself got one for being unlucky enough to get a flat tire and dumb enough to bring a son that didn't know how to change a flat.Heather Gfesser got one for bringing her dad Tony and letting him drive her Jeep - silly girl! (A Father's Day tradition in her family apparently.)

I haven't got a clue what these characters had to say. But knowing Tom Miller and Gary (GDS) Shadwick I am sure it was something very profound and interesting. Then again it they could have been a wondering why they were standing up front with a microphone in their hand or how good the Pecan pie was.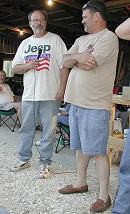 The hat was passed to raise money for the Griggsville GirlsSoftball Team. OR Freesen sold his "no to Jeep Jamboree" shirt which helped raise over $1000.00 by the members present, and the new matching funds rule. Pictured are Randy, Makayla, Miranda and Isaac Whitaker, with check that was just presented by yours truly. That would also be Tom Miller's chrome dome in the foreground - he just has to get into every picture and was letting me know just how good the Pecan pie was!!
It was a mighty fine day.